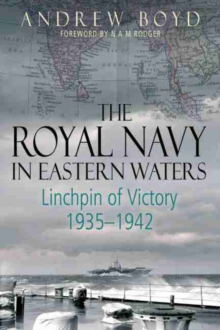 Royal Navy in Eastern Waters
Hardback
Description
THIS IS THE COMPELLING STORY of how the Royal Navy secured the strategic space from Egypt in the west to Australasia in the east through the first half of the Second World War.
This contribution, made while Russia's fate lay in the balance and before American economic power took effect, was critical.
Without it, the war might have lasted longer and decisive victory proved impossible.
After the protection of the Atlantic lifeline, it was the Royal Navy's finest achievement - a linchpin of victory.The book moves authoritatively between grand strategy, intelligence, accounts of specific operations, and technical assessment of ships and weapons.
It challenges established perceptions of Royal Navy capability and performance and will change the way we think about Britain's role in the first half of the war.
It also emphasises that Britain was not acting alone in this period and it underlines the importance of the American relationshipto Britain's eastern policy.Andrew Boyd argues persuasively that it was the Admiralty, demonstrating a reckless disregard for risks, which was primarily responsible for the loss of Force Z in 1941, not Prime Minister Winston Churchill as traditionally suggested. However regrettable, this loss was not a sign of fundamental imperial failure but rather a temporary setback, eclipsed by Britain's strategic success in securing what really mattered.
He demonstrates how the Royal Navy recovered quickly - coming close to a British Midway off Ceylon against the Japanese in 1942.Superbly researched and elegantly written, this book adds a hugely important dimension to our understanding of the war in the East.'This new account ought to startle the many comfortable ideas which have been dozing too long in their arm-chairs.' N A M Rodger, author of A Naval History of Britain
Information
Format: Hardback
Pages: 538 pages, 25 illustrations & 4 maps
Publisher: Pen & Sword Books Ltd
Publication Date: 30/04/2017
Category: General & world history
ISBN: 9781473892484
Other Formats
EPUB from £16.20
PDF from £16.20