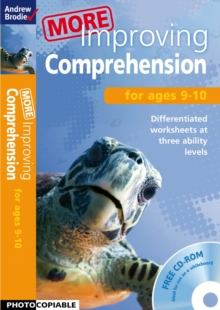 More Improving Comprehension 9-10
Mixed media product
Description
Each book in this series features 15 comprehension passages.
Eachpassage is accompanied by three differentiated comprehension worksheets- one sheet aimed at lower ability pupils, one aimed at the middlerange and one for higher ability.
It is envisaged that teachers maywell end up using two of the three worksheets with each child asprogress is made. The books cover a variety of genres and styles e.g. fiction,non-fiction, poetry, newspaper reports, etc.
Some passages are takenfrom existing literature by well-known authors and some are originalpieces written by the authors.
The carefully worded questions includethose with obvious answers to provide practice in writing clear,well-punctuated sentences, and those with less obvious answers so thathigher ability pupils will need to 'read between the lines'.
Oncecompleted the worksheets will also provide evidence for teachers whenmonitoring pupils' progress and assessing their level. The series addresses strands 7 and 8 of the new Primary Framework forliteracy, which refer to understanding, interpreting, engaging with andresponding to texts, and also strands 11 and 12, which are concernedwith sentence structure, punctuation and presentation.
Information
Format: Mixed media product
Pages: 64 pages, Black and white
Publisher: Bloomsbury Publishing PLC
Publication Date: 12/04/2012
ISBN: 9781408168363