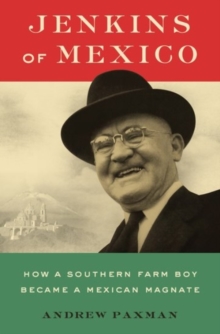 Jenkins of Mexico : How a Southern Farm Boy Became a Mexican Magnate
Hardback
Description
In the Mexican city of Puebla, several decades ago, there lived an old American as wealthy as a Rockefeller.
He strode the streets with a purposeful step and his head slightly bowed, as though he wished not to be interrupted.
For daily visits to his country club, he had his chauffeur drive him, in one of his second-hand Packards.
But he walked often enough that his aspect was familiar to all who lived or worked near his downtown home: tall and well-built, croppedhair beneath a black fedora, and seeming always to wear the same black tie and shabby dark suit.
His head was large and solid, like a marble bowling ball, the roundness interrupted by a stern jaw and heavy chin.
His blue eyes were sharp. William O. Jenkins, said to be the richest man in Mexico, had anaustere routine.
He rose early and worked all morning in his office, which shared the same vast space as his apartment: the penthouse above Puebla's leading department store.
Though his assets included several hundred movie theaters, substantial rural and urban real estate, various textile mills, and Mexico's second-largest bank, his entire staff consisted of a personal assistant, an accountant, and a secretary.
People who came to him for money - a farmer hoping for a loan, a businessmanseeking venture capital, a state governor keen for him to finance a school - all had to climb the ninety stairs to his rooms.
Even as an octogenarian, he refused to install an elevator, for he was a champion of physical fitness and advancement by merit. And of course he was frugal. On more than oneoccasion, visitors entered his office to find him peeling an unmarked stamp from an envelope.
He would explain: "I hate to see anything go to waste."The biography looks at the significance of William Jenkins within the formative period of the Mexican Revolution and the several decades of political institutionalization and evolution that follow it.
The author shows Jenkins' involvement, particularly in the state of Puebla, in politics and economics, and details his ability to survive and keep and develop major holdings despite the anti-American ethos of the Revolution itself.
It also delves deeply into his personal life and the choices thathe made between the well-being of his wife and daughters and his own desire to maintain his important social, political, and economic position in Mexico.
It explores at length Jenkins's kidnapping in 1919 which some U.
S. politicians tried unsuccessfully to exploit to cause U.
S. intervention inMexico. At the same time, it explores anti-American sentiment in Mexico extensively, and it also discusses a kind of "Black Legend" that developed around Jenkins that lasted for many years, indeed, until the present.
Nevertheless, he shows that Jenkins overcame the setbacks and bad publicity to become exceptionally wealthy and active in many areas, ranging from sugar production to the development of a huge and virtually monopolistic network of movie theaters in the country.
However singularhis persona, Jenkins illustrated how much the "revolutionary" state depended on the business elite: at first for its very survival, then for the ascendance and supremacy of its conservatives, whose ideological descendants remain in power today.
This book is a larger than life biography featuring Mexican history, American history of the late 19th/early 20th century, borderlands history, the history of business, and US-Mexican diplomatic history. Written with verve, it should appeal to general readers interested in business history, readers of biography, and those interested in the Mexican Revolution.
Information
Format: Hardback
Pages: 544 pages, 40 hts
Publisher: Oxford University Press Inc
Publication Date: 29/06/2017
ISBN: 9780190455743