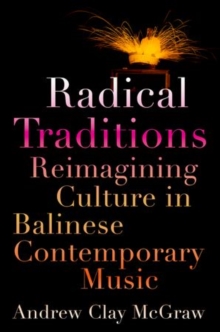 Radical Traditions : Reimagining Culture in Balinese Contemporary Music
Paperback / softback
Description
For the modern West, Bali has long served as an icon of exotic pre-modern innocence.
Yet the reality of modern Bali stands in stark contrast to this prevailing and enduring image, a contrast embodied by a movement of local musical experimentation, musik kontemporer, which emerged in the 1970s and which still thrives today.
In Radical Traditions, author Andrew Clay McGraw shows how music kontemporer embodies the tensions between culture as represented andlived, between the idea of Balinese culture and the experience of living it.
Through a highly interdisciplinary approach informed by ethnomusicology, cultural studies, postcolonial studies, anthropology, and theater studies, McGraw presents an all-encompassing social and musical history of musik kontemporer, andits intersections with class, ethnicity, and globalization.
As the first English language monograph on this important Indonesian musical genre, Radical Traditions is an essential resource for anyone fascinated by modern Indonesian and Balinese music and culture.
Information
Format: Paperback / softback
Pages: 304 pages, 18 music examples, 38 diagrams, 11 photographs4 tables, 1 map
Publisher: Oxford University Press Inc
Publication Date: 28/11/2013
Category: World music
ISBN: 9780199941421