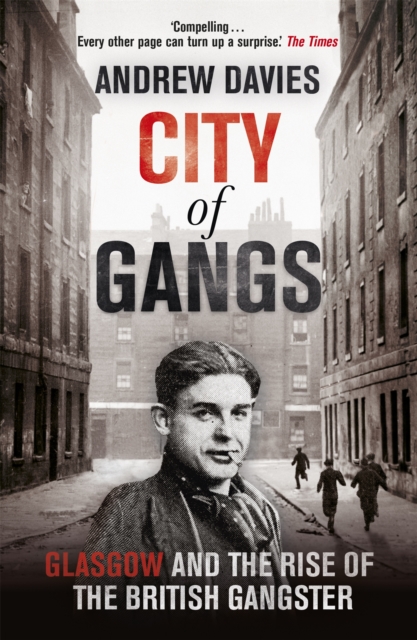 City of Gangs: Glasgow and the Rise of the British Gangster
Paperback / softback
Description
**Includes fascinating stories about Billy Fullerton, leader of the Billy Boys, featured in the latest series of BBC's Peaky Blinders**'A new type of criminal is in our midst - a dangerous, ruthless, well-armed man, who will stick at nothing, not even murder.
He is introducing into this country the gangster methods of Chicago and New York...
Trade depression has thrown into unemployment thousands of unskilled youths who have nothing to do but lounge about the street corners of our slums in gangs.' John Bull weekly newspaper, 1932. During the 1920s and 1930s, Glasgow gained an unenviable and enduring notoriety as Britain's gang city - the 'Scottish Chicago'.
Now Andrew Davies, author of the acclaimed The Gangs of Manchester, brings to life the reign of terror exerted on Glasgow by gangs like the Billy Boys, the Kent Star, the Savoy Arcadians and the South Side Stickers.
Out of the most dilapidated and overcrowded tenements in Britain, stepped young men and women dressed like Hollywood gangsters and their molls.
On the city's streets, they took centre stage in dramas of their own making, fighting territorial battles laced with religious sectarianism and running protection rackets modelled on those of the American underworld. Drawing on fifteen years of original research, Andrew Davies provides compelling portraits of legendary figures such as 'Razor King' John Ross and Billy Fullerton, leader of the Billy Boys - described as the 'Al Capone' of the city's East End.
He sheds new light on the way the city's police and judiciary dealt with the gangs and reveals the fascinating role played by the media in creating myths of the underworld.
During what the Daily Express described as 'The War on the Gang', Glasgow's police were led by Chief Constable Percy Sillitoe (who later became head of M15), determined to maintain the image as a tough, gang-busting cop he had forged in Sheffield during the 1920s.
This dramatic story, played out against the backdrop of the most volatile of Britain's cities, provides a new window onto the most turbulent period in modern British history and a timely reminder of how deprivation, unemployment and religious bigotry are a toxic cocktail in any era.
Information
Format:Paperback / softback
Pages:480 pages, 2 x 8pp b&w picture section
Publisher:Hodder & Stoughton
Publication Date:13/03/2014
Category:
ISBN:9781444739794
Information
Format:Paperback / softback
Pages:480 pages, 2 x 8pp b&w picture section
Publisher:Hodder & Stoughton
Publication Date:13/03/2014
Category:
ISBN:9781444739794