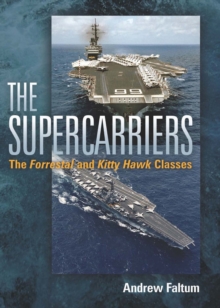 The Supercarriers : The 'Forrestal' and 'Kitty Hawk' Classes
Hardback
Description
The book covers the Forrestal class supercarriers and the follow-on ships, which are basically of the same design, i.e. the Forrestal CV-59, Saratoga CV-60, Ranger CV-61, Independence CV-62, Kitty Hawk CV-63, Constellation CV-64, America CV-66 and Kennedy CV-67. (The Enterprise CVN-65 is unique and is not covered beyond an explanation of the reasons for returning to conventional power in the America and Kennedy that followed her.) As in The Essex Aircraft Carriers and The Independence Light Aircraft Carriers, the main emphasis is on the operational history of these ships, which covers a span of over fifty years.
There are 81 photographs included in four signatures covering the whole history of the supercarriers interspersed within the body of the book.
Maps include the Western Pacific, Vietnam, Mediterranean, Middle East, Indian Ocean and Caribbean.
The front end paper illustration shows the Saratoga as representative of the Forrestal class with port and starboard profiles and an overhead view.
The rear end paper shows similar views of the Constellation as part of the Kitty Hawk class.
Appendix A gives a brief overview of the design technical data for the ships including their dimensions, propulsion systems, arresting gear, catapults, armament, and radars.
Illustrations include an annotated inboard profile of the class as built, as well as annotated cross sections comparing the differences between Forrestal and the John F.
Kennedy. Appendix B profiles individual ships with a short description of significant items that are not included in the main body of the book.
Data for each ship includes the builder as well as dates for keel laying, launch, commissioning, redesignations and decommissioning.
Illustrations include the command shield for each ship.
Appendix C provides technical data (power plants, dimensions, weights, performance, crew, and armament) for aircraft that operated from the ships over the course of their careers.
Included is a table comparing the old Navy designations with the uniform system adopted in 1962 as well as an explanation of each system.
Appendix D includes a description of the air wing and its component squadrons and how they have evolved over time, as well as an explanation of the tail code system.
For each ship, every deployment is covered with tables showing the dates of deployment, the squadrons assigned within the air group/air wing, the modex and aircraft types.
Where the tail code letters are different from the air wing, they are shown next to the modex.
Information
Format: Hardback
Pages: 288 pages, 81 photographs, maps, drawings
Publisher: Naval Institute Press
Publication Date: 30/01/2015
Category: Military history
ISBN: 9781591141808
Free Home Delivery
on all orders
Pick up orders
from local bookshops