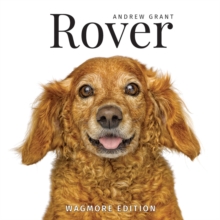 Rover : Wagmore Edition
Hardback
Description
In 2009, Andrew Grant began photographing dogs - starting with two French bulldogs at a commercial 'shoot'.
Then he discovered the sad fact that millions of lost or abandoned dogs enter animal shelters every year. And only a few leave, through rescue and adoption. The rest are euthanased or live out lonely, caged lives. Andrew Grant began to photograph dogs that should be rescued, and dogs that have been rescued.
Over 6 years he raised nearly GBP2 million for shelter dogs through his photographic project.
He did this with the sale of four limited-edition books of dog portraits, each called 'Rover'.
Those books are all sold out, and fetch up to GBP400 on the rare book market - when available.
Most, though, are as treasured as their canine subjects.
Now, Firefly Books is publishing a popularly-priced trade edition of 'Rover: Wagmore Edition'.
It contains 360 of Andrew Grant's most appealing photographs of dogs.
Some are the best friends of lucky owners, and some, sadly, are homeless.
All are splendidly realized in sharp, large and very lifelike colour portraits.
All were captured by state-of-the-art equipment and are truly the most beautiful dog pictures you have ever seen. Firefly Books pledges a portion of the revenue from sales of 'Rover: Wagmore Edition' to dog rescue.
Information
Format: Hardback
Pages: 384 pages, 360 full-colour photos
Publisher: Firefly Books Ltd
Publication Date: 01/10/2017
Category: Dogs as pets
ISBN: 9781770859890