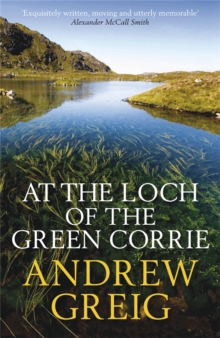 At the Loch of the Green Corrie
Paperback
Description
A homage to a remarkable poet and his world.'At The Loch of Green Corrie is more than merely elegant, more than a collection of albeit fascinating insights, laugh-out-loud observations and impressively broad erudition' - Sunday Herald'You could easily make a case that Andrew Greig has the greatest range of any living Scottish writer' - ScotsmanFor many years Andrew Greig saw the poet Norman MacCaig as a father figure.
Months before his death, MacCaig's enigmatic final request to Greig was that he fish for him at the Loch of the Green Corrie; the location, even the real name of his destination was more mysterious still.
His search took in days of outdoor living, meetings, and fishing with friends in the remote hill lochs of far North-West Scotland.
It led, finally, to the waters of the Green Corrie, which would come to reflect Greig's own life, his thoughts on poetry, geology and land ownership in the Highlands and the ambiguous roles of whisky, love and male friendship.
At the Loch of the Green Corrie is a richly atmospheric narrative, a celebration of losing and recovering oneself in a unique landscape, the consideration of a particular culture, and a homage to a remarkable poet and his world.
Information
Format: Paperback
Pages: 336 pages
Publisher: Quercus Publishing
Publication Date: 01/03/2011
Category: Biography: literary
ISBN: 9780857381361
Free Home Delivery
on all orders
Pick up orders
from local bookshops
Reviews
Showing 1 - 2 of 2 reviews.
Review by Eyejaybee
16/06/2015
This book was so nearly very good, but sadly it subsided into morbid self-obsession.Andrew Greig has published a few novels (including "The Return of John Macnab", which would certainly rank among my fifty favourite novels) along with several volumes of verse, and it was his work as a poet that brought him to the attention of elderly Scottish poet Norman MacCaig. At a meeting not long before MacCaig's death Greig promised to fish at the Loch of the Green Corrie, a site in Assynt (the far North West of Scotland). This book details the expedition that Greig and two of his friends undertook to make good that promise.Greig's prose is generally lucid and incisive (presumably as a consequence of his talent as a poet), and when he is describing the landscape of Assynt the book is enchanting, as it also is when he talks about (and extensively quotes from) MacCaig's poems. However, too much of the book dwells on torrid episodes from Greig's own past, and to my mind these mar the flow of the book.I am glad that I read this, but I would hesitate to recommend it to anyone who does not have my own love of the Highlands, Read his "The Return of John Macnab" or even John Buchan's original "John Macnab" instead.
Review by bodachliath
27/01/2016
A luminous, poetic reflective book which is impossible to categorise. Partly a tribute to Grieg's friend and mentor, the late poet Norman MacCaig and the people and landscape of Assynt in the North West Highlands that MacCaig loved, it is also a memoir and reflection on life, love, friendship, poetry, whisky and fishing. Highly recommended.