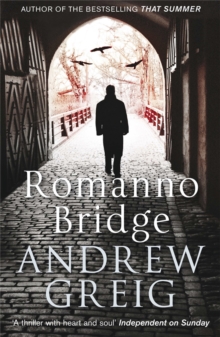 Description
The hunt for the crowning stone of the Dalriadic kings, the Stone of Scone, has begun.'You could easily make a case that Andrew Greig has the greatest range of any living Scottish writer' - ScotsmanA motorcyclist with a stolen ring walks into Rothiemurchus Forest and finds a quiet place to die.
A woman with an eventful past has signed the Official Secrets Act and gone to Dumfries to forget a man and keep out of trouble.
In comfortable Crieff, a retired historian publishes an obscure article on the survival of the Stone of Destiny then has his throat cut.
A man with a long blade in a tan holster under his suit, a fondness for bird-watching, and memories of his short-lived Punk band Anger Management, has taken a commission to retrieve an object so valuable and mythic it might not exist.
A rugby-playing half-Maori named Leo Nagotoa stands in the sleet by Romanno Bridge in the Scottish Borders, trying to thumb a lift when his Destiny slithers up alongside him.
Some of the cast of The Return of John Macnab are back, but the times and the mood have changed.
Romanno Bridge is a wintry thriller, an entertainment, a quest and an exploration of contemporary themes of fakes, frauds, copies, and a struggle to find the Real Thing, wherever and whatever it might be.
Information
Format: Paperback
Pages: 400 pages
Publisher: Quercus Publishing
Publication Date: 02/10/2008
Category: Crime & mystery
ISBN: 9781847245618
Free Home Delivery
on all orders
Pick up orders
from local bookshops
Reviews
Showing 1 - 2 of 2 reviews.
Review by CarltonC
16/06/2015
I enjoyed this finely written adventure/thriller, but had not read The Return of John McNab, which may have added depth to the characters.The author writes from a number of viewpoints, which are mainly successful, but on a couple of occasions the narrative stops entirely and the author interjects about writing a story set back in the dying days of the twentieth century. Although these asides did make me think about when the story was taking place, they did not feel of a piece with the rest of the novel. This is a minor quibble.The weakness is in that there is a lot of helpful coincidence throughout the book, which can work in a literary novel, but which I felt was contrived in a thriller, where I expected a better resolution.I now want to go and read more by Andrew Greig, so overall a thumbs up for the author, with reservations for this particular novel.
Review by bodachliath
27/01/2016
I don't often read thrillers and adventure stories, but this is a rather superior one. Andrew Greig is a versatile writer and poet with a love of all things Scottish - the hills, its history and writers like John Buchan. This book brings together characters from his earlier update of a Buchan story, The Return of John Macnab, and various legends surrounding the Stone of Scone. It is page turner with a feeling for character, landscape, whisky, music, language, history, humour and thoughtful asides, that make you forgive the melodrama.