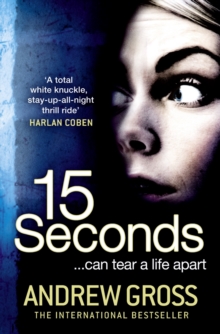 Description
`A total white knuckle stay-up-all-night thrill ride' (Harlan Coben) from the bestselling author of Reckless and Killing Hour.
Fifteen seconds can tear a life apart..OUT OF TOWNDr Henry Steadman has it all: a booming business, a daughter he loves, and plenty of time to enjoy life.
But while visiting upstate Florida, a police-stop ends in the shooting of a local cop - with Henry as the prime suspect.OUT OF LUCKFramed for a second murder, this time of a close friend, Henry goes on the run.
His only lifeline is state-trooper Carrie Holmes, no stranger to tragedy herself, who can help prove his innocence.
But they are in a dead-end - the police are closing in, the killer is getting away.OUT OF TIMEThis is not just a set-up, it's far more personal.
Henry's nightmare is complete when his daughter is kidnapped.
Suddenly, survival is not enough: he must save his daughter.
Everything has been taken away from him - but now, Henry has nothing left to lose...
Information
Format: Paperback
Pages: 464 pages
Publisher: HarperCollins Publishers
Publication Date: 01/04/2012
Category: Thriller / suspense
ISBN: 9780007384273
Other Formats
eAudiobook MP3 from £10.39
Free Home Delivery
on all orders
Pick up orders
from local bookshops
Reviews
Showing 1 - 4 of 4 reviews.
Review by mmeckenstock
16/06/2015
To Deborah Jean, her mother's words of caution were unnecessary. After all, "What can happen in fifteen seconds?" 15 seconds. 15 fateful seconds is all it took to wreak havoc and utterly destroy lives. To nineteen year old Amanda, life was anything but easy, and is quickly spiraling downhill out of control. Her wretched dad always yelling, threatening; her uptight boss, asinine instructor, and two-timing boyfriend. And now, to top it all, she was going to be late to class again. Thank goodness she had her pills to help her cope. Traffic. A one-way street. 15 seconds. Lives forever altered.Vance Hofer died a little inside as Amanda, his "little girl," cried for him to rescue her from a twenty year prison sentence. "How you gonna help me, Daddy?" Wanting to help, yet accepting that justice must prevail, he could never have anticipated the crushing blow of her answer as he questioned who stole his daughter, his "little girl." "You done it, Daddy…It was you." In contrast, Dr. Henry Steadman had it all. A thriving medical practice, a comfortable living, a daughter he was proud of, the great respect of his colleagues, some golf with his friend, Mike Dinofrio, and one former Miss Jacksonville waiting for him at the Marriott. This was shaping up to qualify as one of the ten days of greatness allotted to one's life. Traffic. A one-way street. Lives forever altered.Henry's wrong turn in an unfamiliar city brought Officer Martinez down on his case in a flash. It did little good to plead forgiveness with Martinez, who was obviously enamored with the power ascribed to his uniform. The charges piled up as Henry found himself squashed in the back seat of the police car, cuffed and under arrest, while numerous reinforcements arrived at the scene. But when the rest of the force had left, Martinez was suddenly struck dead by bullets from a blue sedan. Sure to be accused, Henry sought refuge at Mikes' doorstep.Carrie's return to the department's community outreach division four months after the devastating loss of her husband was not an easy one. No time for easing back into routine, though. Fellow officer Martinez had just been killed, as well as CEO Mike Dinofrio, and she was manning the phone. Little did she realize, she would become the suspect's lifeline, and her life would again be forever altered. Henry's predicament worsens by the minute, but nothing could prepare him for the sudden announcement that his daughter, Hallie, had been kidnapped. It would be at her peril if he attempted to explain the events that had been carefully orchestrated to implicate him. Andrew Gross skillfully builds suspense throughout the entire story, keeping the reader riveted on the edge of their seats. I found the web of events to be somewhat confusing at first, but so spellbinding that I had to follow Henry as he relentlessly sought to rescue his daughter. 15 Seconds is a fabulous suspense! You couldn't have pried it from me until I had read the last word.I received this advance copy as a GoodReads FirstReads giveaway, in exchange for my honest review.
Review by julie10reads
16/06/2015
When a random act of violence plunges him into a nightmarish world, Henry Steadman, a successful surgeon accused of murdering two people, must clear his name and discover who is trying to destroy him in order to save himself and his family. Summary BPLNice update of The Fugitive premise where an innocent person is framed for murders he/she did not commit. In a welcome departure, Dr. Henry Steadman is no Richard Kimble (also a doctor!) which makes for a more plausible storyline and easier for the reader to identify with his travails. The author reveals that the idea came from a similar incident in his life when he was pulled over by police and roughly handled with no probable cause.7 out of 10 For those readers who nurse a private fear of being arrested for a crime they did not commit.
Review by blockbuster1994
16/06/2015
While the plot was thoughtful and original, the characters failed to deliver anything of interest. Most were stereotypically good or bad people, never straying from script. For example, the female lead (and I can't even remember her name) is a fresh young widow with a trusting heart, but only to the wholly good Harry Steadman, who she intuits is totally innocent from a couple of phone conversations. She deeply loved her husband, but within a matter of months after his death, is flirty with fugitive Steadman and charging around with loaded guns.I think there was a lot of potential between the plot and the setting; Florida. But without strong characters, this is just another B grade adventure novel with plenty of action, but no real bang.
Review by LivelyLady
16/06/2015
Fast paced drama of a doctor who is framed. In a short time, his life is upside down, he is being pursued by all and his daughter is kidnapped. Very suspenseful!