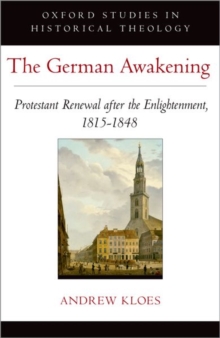 The German Awakening : Protestant Renewal after the Enlightenment, 1815-1848
Hardback
Description
Historians of modern German culture and church history refer to "the Awakening movement" (die Erweckungsbewegung) to describe a period in the history of German Protestantism between the end of the Napoleonic Wars in 1815 and the Revolution of 1848. "The Awakening" was the last major nationwide Protestant reform and revival movement to occur in Germany.
This book analyzes numerous primary sources from the era of the Awakening and synthesizes the current stateof German scholarship for an English-speaking audience.
It examines the Awakening as a product of the larger social changes that were re-shaping German society during the early decades of the nineteenth century.
Theologically, Awakened Protestants were traditionalists.
They affirmed religious doctrines thatorthodox Protestants had professed since the confessional statements of the Reformation-era.
Awakened Protestants rejected the changes that Enlightenment thought had introduced into Protestant theology and preaching since the mid-eighteenth century.
However, Awakened Protestants were also themselves distinctly modern.
Their efforts to spread their religious beliefs were successful because of the new political freedoms and economic opportunities that the Enlightenment had introduced.
Thesesocial conditions gave German Protestants new means and abilities to pursue their religious goals.
Awakened Protestants were leaders in the German churches and in the universities.
They used their influence to found many voluntary organizations for evangelism, in Germany and abroad.
They also establishedmany institutions to ameliorate the living conditions of those in poverty.
Adapting Protestantism to modern society in these ways was the most original and innovative aspect of the Awakening movement.
Information
Format: Hardback
Pages: 344 pages
Publisher: Oxford University Press Inc
Publication Date: 17/06/2019
Category: European history
ISBN: 9780190936860
Also in the Oxford Studies in Historical Theology series | View all