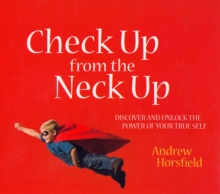 Check Up from the Neck Up : Discover and Unlock the Power of Your True Self
Paperback / softback
Description
DISCOVER AND UNLOCK THE POWER OF YOUR TRUE SELFOverviewThis book has been designed to encourage and expand your thinking.If reading it promotes you to go out and take action; awesome.
If you take your thoughts to a dinner conversation; fantastic!
If you just set aside some quiet time to read and contemplate; enjoy!
The intention is for people to enter and interact with this book through whatever means, level and pace they feel comfortable.The purpose of this book is not to tell you how things are, how much you should be earning, what you should be striving for, what balance life should have or what you should value and in what quantity.
From my experience, I have learned that nobody likes to be "should" on.The sole aim of this resource is for you to raise your level of mindfulness around how you are living your life.
This is a book for self reflection NOT self help. Answers for questions that are raised will not appear upside down at the back of the book.
Exploring what arises for you as you read is up to you.Are there tips and pointers to help you along the way?
Sure, but relying on someone else to guide this thought journey will only leave you frustrated. Only YOU can determine if the choices you are making are helping or hindering you.
Life has the potential to be magical or miserable and you have the wand in your hand.
What is it that you will create for yourself?Formula for SuccessHow well do you truly know yourself?
Your level of self awareness about who you are and what you stand for provides great personal insight.
How you feel in a particular situation will determine your level of engagement in that event and consequently help or hinder you achieve what you desire.
Event by event, day to day and as a natural progression-through your life.This book will not provide neatly packaged absolute answers for your life.
I have, in fact, worked hard to abstain from a self help genre and ensure neat answers don't happen!The intention is to promote a sense of mindfulness to help you better understand how the way you see and interact with the world directly impacts your life.
With an enhanced understanding of this connection I believe you will be more educated about your mind's habits providing openness to its routines.
These are the routines that generate your decisions, direct your journey and ultimately determine your destination.Awareness of your mind's habits and how these habits impact on the way you interrelate with the world enables a creation as opposed to a reaction to life. A greater sense of mindfulness allows for new perspectives and approaches to be considered and attempted.
This ensures a larger behavioral toolbox is accessed to gain the most effective outcomes for situations and scenarios you encounter.
Information
Format: Paperback / softback
Pages: 120 pages, 42 full colour photos
Publisher: Brolga Publishing Pty Ltd
Publication Date: 01/12/2007
Category: Assertiveness, motivation & self-esteem
ISBN: 9781921221286
Free Home Delivery
on all orders
Pick up orders
from local bookshops