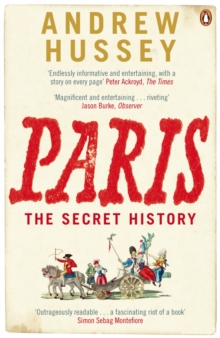 Paris : The Secret History
Paperback
Description
Paris is the city of light and the city of darkness - a place of ceaseless revolution and reinvention that for two thousand years has drawn those with the highest ideals and the lowest morals to its teeming streets.
In Andrew Hussey's wonderful book we encounter the myriad citizens whose stories have shaped Paris: the nineteenth-century flaneurs aimlessly wandering Haussman's new streets; survivors and victims of ravaging plagues; the builders of Notre Dame Cathedral; those who turned the River Seine red with blood on St Bartholomew's Day; and the many others whose lives have imprinted themselves on a city that has always aroused strong emotions.
Information
Format: Paperback
Pages: 544 pages, 16pp b&w inset
Publisher: Penguin Books Ltd
Publication Date: 01/01/2007
Category: European history
ISBN: 9780141011134
Free Home Delivery
on all orders
Pick up orders
from local bookshops
Reviews
Showing 1 - 2 of 2 reviews.
Review by Widsith
16/06/2015
I was disappointed by this one. There are a lot of entertaining historical anecdotes in here, but somehow as a whole it doesn't quite hang together.Part of the problem is that it wants to be more than just a factual history. Hussey says in the prologue that he is modelling the project on Peter Ackroyd's wonderful <i>London: The Biography</i>, but that sets the bar pretty high. He is decent when he sticks to the facts, but when he starts trying to be metaphysical, he just doesn't have Ackroyd's control, and ends up drawing rather silly and pseudo-profound conclusions like, "The death of [Princess] Diana [...] could only have happened here [...] she is only the latest and most famous example of those who have been fatally seduced here." And so on.Part of the reason Ackroyd was so good at moving beyond facts into "psychogeography" (or whatever you want to call it) is that he took a catholic, thematic approach to his history. Hussey just starts with the Celts and works his way methodically forwards in time. Of course there's nothing wrong with that as a methodology, but it does mean he has to work hard to keep each chapter coherent, and occasionally it slips away from him.The book's focus is neither one thing or the other. It claims to be a "secret" history which examines the city's underclasses, its back-alleys and criminals and occultists. Yet there is a strong relience on fairly un-secret narratives about kings and presidents and other "great men" or important dates. The result is that neither strand seems wholly satisfying.Having one eye on the downtrodden was a good idea, and it provides the book with most of its best stories. It's great to hear details about things like the "bread of Madame Montpensier" (which used flour from ground-up human bones, during food shortages), or about the semi-mythical King of Thieves holding court over the city's beggars. But too often, his remit manifests itself only in a vague fascination with what he calls "whores", and a predilection for details which, while often interesting, can sometimes seem juvenile.Finally, the quality of the writing itself irritated me. He does not know the difference between "flout" and "flaunt". He uses the seismological term "epicentre" as a lazy synonym for "centre". The net result of all this is a feeling that Hussey has a wealth of information about Paris, but not a very good idea about how to organise it or talk about it.You'll get some interesting stuff out of this book, but it's more of an effort than it should be.
Review by sloopjonb
16/06/2015
I gave up on this ... it was too trendily rive-gauche leftie (and I'm a leftie myself).