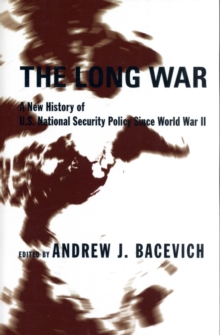 The Long War : A New History of U.S. National Security Policy Since World War II
Paperback / softback
Description
Essays by a diverse and distinguished group of historians, political scientists, and sociologists examine the alarms, emergencies, controversies, and confusions that have characterized America's Cold War, the post-Cold War interval of the 1990s, and today's "Global War on Terror." This "Long War" has left its imprint on virtually every aspect of American life; by considering it as a whole, The Long War is the first volume to take a truly comprehensive look at America's response to the national-security crisis touched off by the events of World War II. Contributors consider topics ranging from grand strategy and strategic bombing to ideology and economics and assess the changing American way of war and Hollywood's surprisingly consistent depiction of Americans at war.
They evaluate the evolution of the national-security apparatus and the role of dissenters who viewed the myriad activities of that apparatus with dismay.
They take a fresh look at the Long War's civic implications and its impact on civil-military relations. More than a military history, The Long War examines the ideas, policies, and institutions that have developed since the United States claimed the role of global superpower.
This protracted crisis has become a seemingly permanent, if not defining aspect of contemporary American life.
In breaking down the old and artificial boundaries that have traditionally divided the postwar period into neat historical units, this volume provides a better understanding of the evolution of the United States and U.S. policy since World War II and offers a fresh perspective on our current national security predicament.
Information
Format: Paperback / softback
Pages: 608 pages, 8 illus.
Publisher: Columbia University Press
Publication Date: 31/03/2009
Category: Central government policies
ISBN: 9780231131599
Free Home Delivery
on all orders
Pick up orders
from local bookshops