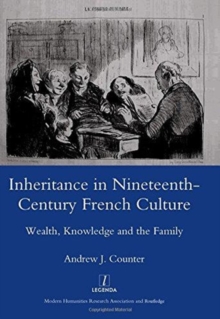 Inheritance in Nineteenth-century French Culture : Wealth, Knowledge and the Family
Hardback
Description
The transmission of wealth between generations was not only a narrative commonplace in nineteenth-century France, but also a topic of considerable cultural anxiety and intense political debate.
In this study, Andrew J. Counter draws on a wealth of previously unexplored material to show how the theme of inheritance in literature and beyond acquired ethical, historical and ideological connotations, and was vital to nineteenth-century French conceptions of the family and of the legacy of the Revolution.
Weaving together fiction, drama, legal texts, historiographical thought and political writing, Inheritance in Nineteenth-Century French Culture teases out a complex leitmotiv that gives us a new understanding of nineteenth- century Frances sense of its own place in history.
It also proposes innovative readings of writers as familiar as Honore de Balzac, George Sand, Guy de Maupassant and Emile Zola, while drawing attention to a range of neglected authors and works.
Free Home Delivery
on all orders
Pick up orders
from local bookshops
Also by Andrew J. Counter