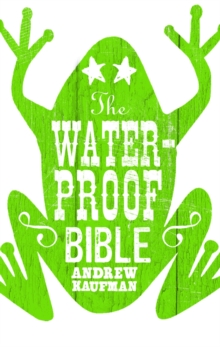 The Waterproof Bible
Paperback
Description
Rebecca has a most unusual problem: no matter how hard she tries, she can't stop broadcasting her feelings to people around her.
Luckily, she's discovered how to trap and store her feelings in personal objects - but just how much emotional baggage can Unit 207, E.Z.
Self Storage hold? Lewis is grieving for his wife, Lisa, Rebecca's sister.
Inconsolable, he skips Lisa's funeral, flies to Winnipeg, gets a haircut and meets a woman who claims to be God.
At the wheel of a stolen Honda Civic is Aberystwyth, aka Aby, driving across Canada to save the soul of her dying mother.
She is green, gill-necked, and very uncomfortable out of the water.
An unexpected encounter with Aby sets off a chain of events which sends each of them on a personal quest.
Can Rebecca, Lewis and Aby find redemption before a terrible flood destroys their chance at happiness?
Information
Format: Paperback
Pages: 250 pages
Publisher: Telegram Books
Publication Date: 18/06/2010
ISBN: 9781846590863
Free Home Delivery
on all orders
Pick up orders
from local bookshops
Reviews
Showing 1 - 1 of 1 reviews.
Review by sanddancer
16/06/2015
 Like his cult novella All My Friends are Superheroes, the characters in this book are all people with very unusual traits, but which are treated as if they aren't anything out of the ordinary, living in a world which seems pretty much like our own, rather than a created fantasy universe. It is a very quirky, odd story but written about in a simple matter-of-fact way and is despite the weirdness is essentially a story about relationships. Rebecca has the quirk of whatever feelings she has, everyone around her can see them, so she attempts to hide them from the world which involves storing mementoes of her life. Her brother-in-law, Lewis is a pop star who meets a woman claiming to be God. Aby is (and this is where it gets very weird) an amphibian creature (one with gills and a greenish hue to the skin, but apparently looks like humans otherwise) who has come onto the land for the first time to find her mother, Margaret, who left the water for the land years ago and now runs a hotel with no guests. They have their own religion 'aquatics' that teaches that they are the chosen ones, saved from the Great Flood but given the ability to live on land and in water as a test of their faith, with anyone who choses life on land being damned. The book has various messages about religion and memories, which might have come across as trite had they not been presented in this imaginative way. Very sweet and enjoyable.