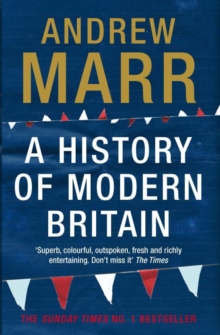 A History of Modern Britain
Paperback
Description
A History of Modern Britain confronts head-on the victory of shopping over politics.
It tells the story of how the great political visions of New Jerusalem or a second Elizabethan Age, rival idealisms, came to be defeated by a culture of consumerism, celebrity and self-gratification.
In each decade, political leaders think they know what they are doing, but find themselves confounded.
Every time, the British people turn out to be stroppier and harder to herd than predicted.
Throughout, Britain is a country on the edge -- first of invasion, then of bankruptcy, then on the vulnerable front line of the Cold War and later in the forefront of the great opening up of capital and migration now reshaping the world.
This history follows all the political and economic stories, but deals too with comedy, cars, the war against homosexuals, Sixties anarchists, oil-men and punks, Margaret Thatcher's wonderful good luck, political lies and the true heroes of British theatre. 'Superb, colourful, outspoken, fresh and richly entertaining.
Don't miss' The Times 'Lively, full of rich anecdotes and sparkling pen portraits. He has the rare gift of being able to explain complex issues in a few crisp sentences' Sunday Telegraph
Information
Format: Paperback
Pages: 640 pages, black & white illustrations, colour illustrations
Publisher: Pan Macmillan
Publication Date: 06/03/2009
Category: British & Irish history
ISBN: 9780330511476
Other Formats
Paperback from £9.15
EPUB from £8.79
Free Home Delivery
on all orders
Pick up orders
from local bookshops
Reviews
Showing 1 - 3 of 3 reviews.
Review by sloopjonb
16/06/2015
Should be titled A Political History of Modern Britain, as that is what it is, but within that constraint, this is very good. It is interesting to see how many big issues and crises that were so important at the time now seem so inconsequential (which may hearten Gordon Brown). It is also interesting (but not surprising) to see how little politicians could influence the course of events, and of how successive policies were derailed by outbreaks of reality (which may not hearten Gordon Brown). Well-told, many amusing and interesting vignettes.
Review by jintster
16/06/2015
A birthday gift from my brother which I only read because he would ask me if I had every time I saw him. My reluctance had nothing to do with Marr whom I consider to be one of the best British political commentators around but with the subject matter. If there is one bit of history I know about, it's British political history pot-war. I'm glad my brother pestered me. This is a very good book, with sound analysis and quite a few anecdotes and facts I was not previously aware of. My favourite concerned George Brown, deputy leader of the Labour Party throughout the 1960s and at one point Foreign Secretary and at all points addicted to the bottle. At a diplomatic reception in Peru, he repeatedly requested a dance from a tall, elegant individual clothed in scarlet. After the final rejection, he demanded to know the reason why - "There are three reasons, I will not dance with you. First, you are disgustingly drunk. Second, the band is not playing a Waltz but the Peruvian national anthem. Third, I am not a lady but the Cardinal-Archbishop of Lima". Probably because the publisher demanded it, about a third of the book is non-political. Marr is less sure footed here. The choice of subjects is a bit unbalanced too - there's a lot on fashion and music but very little on sport or literature. There are still insights here and Marr shows his excellent taste in putting forward Ray Davies as the best songwriter of the sixties, not excluding Lennon-McCartney.As far as politics is concerned, Marr writes objectively and well (although there are a lot of irritating typos). He is particularly good on the post-war austerity period and on the Thatcher revolution but less so on the 1950s, particularly Churchill's second Government. The most interesting part for me was the section on the 1974-1979 Labour Government, long excoriated as one of the worst in our history. Marr goes some way to rehabilitating Callaghan, Healy and co. and includes the astonishing (to me at least) revelation that the desperate loan squeezed from the IMF, who required huge public spending cuts, was entirely unnecessary and required only because the Treasury had severely underestimated revenues. Had the mandarins got it right, it is very likely Labour woudl have been re-elected in 1978/9 and Margaret Thatcher would be remembered as the first female leader of a major party rather than the first woman to become Prime Minister. Marr writes as a journalist and the book lacks a central thesis, but probably doesn't need one. The closest he gets is to note how lucky we are to have lived in an age of such prosperity - no one could have guessed as much in the bleak years immediately after the end of the war.
Review by LARA335
16/06/2015
Thoroughly readable and illuminating account of the politics and culture from the 2nd WW to now. It seems as though Britain has always lurched from one economic crisis to another.