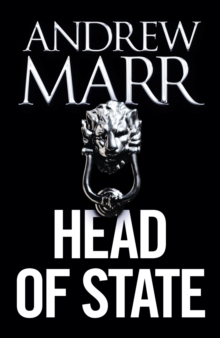 Head of State : The Bestselling Brexit Thriller
Hardback
Description
Two corpses. A country on the edge of a political precipice. A conspiracy so bold it would make Machiavelli wince. Andrew Marr's debut novel imagines what really might be going on behind the door of 10 Downing Street.When a young investigative reporter is found dead on the streets of London few people notice.
But when another body - minus its head and hands - is washed up on the banks of the Thames, its grisly condition arouses a little more interest.There appears to be no connection between the two dead men.
But, unsuspected by the electorate, there is a shocking and dangerous secret at the very heart of government.
While the United Kingdom approaches a crucial and delicately-balanced referendum on Europe, a group of ruthlessly determined individuals will stop at nothing - including murder - to prevent the truth from getting out.Andrew Marr's first novel is a gleefully twisted spin through the corridors of power.
Making full use of his unrivalled inside knowledge of the British political scene, Marr has threaded his wickedly clever thriller with a distinctive strand of pitch-black humour, to offer an irreverent glimpse behind the parliamentary curtain.
Information
Format: Hardback
Pages: 384 pages
Publisher: HarperCollins Publishers
Publication Date: 11/09/2014
ISBN: 9780007591923
Other Formats
Paperback from £7.69
EPUB from £4.99
Free Home Delivery
on all orders
Pick up orders
from local bookshops
Reviews
Showing 1 - 1 of 1 reviews.
Review by Eyejaybee
16/06/2015
I believe that this is Andrew Marr's first novel - I hope it will be his last! He should stick to non-fiction in future.Marr is an enigmatic and engaging character, and he has been through some sinuous twists of fate over the last few years. Having had a long and successful character as a political journalist, including stints as editor of 'The Independent' and chief political correspondent for the BBC, he branched off into making his own television series and writing popular histories (though the last of these, a history of the world took simplicity and the broad brush to hitherto unplumbed levels), again with great success. His recent BBC series on Scottish writers, timed to coincide with the Referendum was marvellous, particularly the episodes on Sir Walter Scott and Hugh MacDiarmid. His popularity and public image took a bit of a knock with the revelations of his extra-marital affair, though the outrage was more about the hypocrisy of a senior journalist imposing a super-injunction than from any moral perspective. Certainly there has been widespread pleasure at his return to health following his stroke, and he remains immensely, and deservedly, popular. But now this! The most popular of entertainers must surely know that one can test one's public that little bit too far! I was expecting a political thriller on a par with Gavin Esler's 'A Scandalous Man' or Martin Sixsmith's 'Spin' but I was sold a dreadful dummy here. this was like looking forward to an episode of 'Have I Got New For You?' but finding that the guests are Glenda Jackson and Anne Robinson, and Stanly Johnson is chairing it.