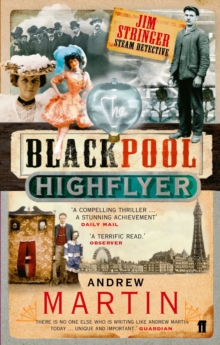 The Blackpool Highflyer
Paperback
Description
'Genuinely gripping ...A brilliant evocation of Edwardian working-class life - the sort of thing DH Lawrence might have written had he been less verbose or been blessed with a sense of humour.' Peter Parker, Evening Standard The second Jim Stringer adventure, The Blackpool Highflyer is a suberbly atmospheric thriller of sabotage, suspicion and steam. 'Unique and important ...There is no one else who is writing like Andrew Martin today.' Ian Marchant, Guardian 'Evokes Edwardian Yorkshire and Lancashire, their great industrial prosperity and singular ways of living, quite brilliantly in a historical whodunnit which for its fresh and stealthy approach to past times deserves the adjective Bainbridgean.' Ian Jack, Guardian (Books of the Year) 'A steamy whodunnit ...This may well be the best fiction about the railways since Dickens.' Michael Williams, Independent on Sunday
Information
Format: Paperback
Pages: 352 pages
Publisher: Faber & Faber
Publication Date: 01/09/2005
Category: Crime & mystery
ISBN: 9780571219025
Free Home Delivery
on all orders
Pick up orders
from local bookshops
Reviews
Showing 1 - 5 of 5 reviews.
Review by johnthefireman
16/06/2015
I find this one to be slightly better than the first. The railway interest is still more of a plus than the detective story. He manages to create quite a good atmosphere - whether it's truly representative of Edwardian times I'm not qualified to judge, but it certainly feels OK. And in this volume we learn the answer to the old music hall riddle, "Why is a football round?"
Review by buttes-chaumont
16/06/2015
Having read books 1 and 3 in this series, this one came out of sequence. The character of Jim Stringer was at an earlier stage of development: even more naive and even quicker to leap to the wrong conclusion. Jim struggles throughout the book to identify the villain who has attempted to derail the train on which he was fireman. Rarely have such a wide range of individuals come under suspicion as Jim discovers almost everyone he knows could have had good reason to want to stop this particular train. As a character, Jim is well drawn because he is not especially endearing. He has his good qualities and a robust moral code but frequently gives needless offence, his judgement is unreliable at times and his impulsiveness costs a life. Set just over 100 years ago, the book describes a world where steam power is at its zenith and shapes almost every aspect of life in industrial Northern England. The descriptions of Halifax and the West Riding sweltering in an unaccustomed heat-wave are beautifully written and utterly convincing. The uncelebrated port of Goole has probably never been evoked in such loving detail as it is in the climax to this book. "Murder at Deviation Junction" has just been published so there is more to look forward to.
Review by irkthepurist
16/06/2015
Much as I enjoyed "The Necropolis Railway" this is much better - not only a great detective novel but a great novel in and of itself. Jim Stringer is a wonderful creation, a genuinely endearing narrator and charming narrator. But the real clincher for me is his sense of place. West Yorkshire and specifically the Calder Valley is described beautifully. I'll admit I'm biased because I live in the area, but he's absolutely got the geography of Sowerby Bridge, Halifax and Hebden Bridge down to a tee. It's even odder to be reading about a character travelling through the town where you live - Todmorden - and then being able to look out the window and see the very line being described. Even odder to be reading about the train coming into Smithy Bridge as your own train in the morning does the very same thing. This is how all research should be done - he's obviously done bucketloads and none of it is ever simply dumped to demonstrate how much hard work he's done. All of it is used to further the narrative. Very enjoyable and easily the best evocation of this beautiful part of England
Review by riverwillow
16/06/2015
This is the second book in the series and Jim Stringer has now moved to Halifax and has been promoted to fireman. Once again the period is beautifully evoked, I'd forgotten about trips to the sea and Wake Weeks for mill workers, but as for the first book there was not enough mystery and too much train and not enough about Jim Stringer's personal life.
Review by PIER50
16/06/2015
A quite good read. Not exactly full of suspense, sort of a 'nice' crime book . The railway references are well described. Ultimately, the book left me feeling somewhat unsatisfied and did not prompt me to seek out the other books in the series