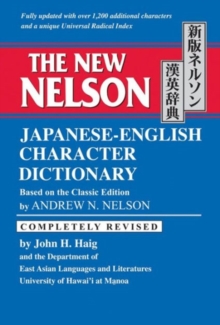 The New Nelson Japanese-English Character Dictionary
Hardback
Description
"Unexcelled as a dictionary of basic Sino-Japanese characters. Extremely easy to use."-Japan Society This is the utmost classic and well regarded standard Japanese Kanji Dictionary available today.The New Nelson Japanese-English Character Dictionary is a complete revision of The Original Reader's Japanese-English Character Dictionary, published by Charles E.
Tuttle Company in 1962. Long the foremost Japanese-English character dictionary, adopted by Japanese-study programs around the world and used at all levels of Japanese language study, the Nelson, as it is familiarly called, has been enhanced in this edition with several key changes.
The Universal Radical Index, an important advance on the traditional character indices, has been created as a handy appendix that enables users to search for any main-entry character's reference number in Morohashi's Dai Kanwa Jiten.
Over 1,200 characters have been added and more than 2,000 new on-kun entries included.
Definitions have been modernized to reflect current usage and translation.Updated with additional characters, contemporary definitions, and an innovative radical index system, this revised editions sets new standards of excellence, easy-of-use, and reliability for Japanese language reference tools. This edition keeps pace with the evolution of the Japanese language and remains an indispensable tool for students and scholars of Japanese
Free Home Delivery
on all orders
Pick up orders
from local bookshops
Reviews
Showing 1 - 2 of 2 reviews.
Review by towo
16/06/2015
The New Nelson is a quite handy kanji dictionary; lookup is possible via the classical radical + stroke count method, where the radical can be found either via number reference (tables included, also another set of tables with only top/bottom/left/right/enclosing radicals) as well as by stroke count.A great bonus especially for beginners is that it offers a "unified radical index", which lists all kanji including any given radical, whether or not it is the primary radical.Also included are instructions how to find radicals, some background information on them, kana systems, historical tables (names of dynasties etc), (foreign) geographical names, a list of the joyo kanji and an on-kun index (romanized index of all readings).
Review by signature103
16/06/2015
Slightly user-unfriendly compared to the second edition. The additional indices in the back make reading look up more difficult.
Also by Andrew N. Nelson