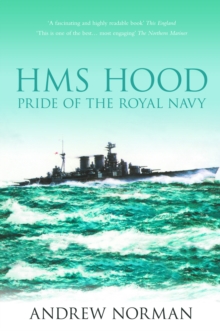 HMS Hood : Pride of the Royal Navy
Paperback / softback
Description
The sinking of the battlecruiser HMS Hood on 24 May 1941, dealt a major blow to the British Royal Navy.
Like Titanic years before, Hood had seemed invincible and much of the hopes of the Navy rested with her as the nation entered the war with Germany.
The epitome of British naval power, the 48,360-ton Hood boasted eight 15-inch and eight 4-inch guns - a formidably armed vessel that the Royal Navy had hoped could match German battleships such as the Bismarck.
But in just eight minutes, after an encounter with Bismarck and her consort Prinz Eugen, HMS Hood blew up and sank to the bottom of the Alantic, taking the lives of 1,418 men with her.
Her sinking was met with disbelief both in England and around the world; the formerly invincible Royal Navy now seemed very vulnerable.
Author Dr Andrew Norman explores the events leading up to the disaster and the legacy left in its wake.
His research includes reports from both the Royal Naval Museum and German naval records, and many of the photographs included are previously unpublished.
In HMS Hood: Pride of the Royal Navy, he reassesses the possible reasons for Hood's sinking, in the light of the discovery of her wreckage in July 2001.
Information
Format: Paperback / softback
Pages: 192 pages
Publisher: The History Press Ltd
Publication Date: 01/01/2009
Category: General & world history
ISBN: 9781862274532