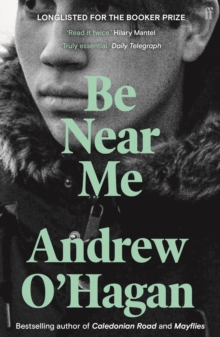 Description
Longlisted for the Booker Prize, Be Near Me is a brilliantly moving story of art and politics, love and change, and the way we live now.When an English priest takes over a small Scottish parish, not everyone is ready to accept him.
He makes friends with two local youths, Mark and Lisa, and clashes with a world he can barely understand.
The town seems to grow darker each night. Fate comes calling, and before the summer is out his quiet life is the focus of public hysteria.
Meanwhile a religious war is unfolding on his doorstep . . .
Information
Format: Paperback
Pages: 288 pages
Publisher: Faber & Faber
Publication Date: 01/01/2007
ISBN: 9780571216048
Other Formats
Hardback from £12.45
EPUB from £6.39
Free Home Delivery
on all orders
Pick up orders
from local bookshops
Reviews
Showing 1 - 3 of 3 reviews.
Review by deargreenplace
16/06/2015
David Anderton is a connoisseur of fine food, wine and classical music. He attended Ampleforth public school, studied at Oxford University, and lived in Rome. His father died when he was younger, and his mother is a Morningside lady (a well-to-do area in Edinburgh) who writes novels. He is erudite, thoughtful and intelligent. David Anderton is a Catholic priest.Father David is working in Dalgarnock, a fictitious town in Ayrshire, Scotland. Many of the parishioners are unemployed, having lost their manufacturing jobs as the local factories closed down. He has a comfortable rectory at St John Ogilvie, and is assisted by his housekeeper, Mrs Poole. Part of his role involves working with pupils at the local secondary school, St Andrew's, and it is here that he meets Mark and Lisa, who take an interest in Father David. A strange friendship grows between the three, as they exchange text messages, and start wandering at night, exploring the industrial estates and wastegrounds of Dalgarnock, where there is little for teenagers to do except numb the boredom with whatever mischief and substances they can find.It has been claimed that the author has based his Dalgarnock on the real town of Girvan in Ayrshire, (see Sunday Herald article), but my sister and I disagree. We attended St Andrew's Academy (Saltcoats), where you can see the island of Ailsa Craig from the classrooms, we lived in Kilwinning (home of the Mother Lodge of the Orange Order, and an abbey) and in Stevenston (home of the Ardeer club, ICI factory, and the Blue Star garage, which is a name known to locals but not the one on the sign outside). The author has an authentic insider's knowledge of the Three Towns area, and describes it in detail. As teenagers in Stevenston, my sister and I had friends much like Mark and Lisa, and the author's portrayal of these aimless teenagers and the ways they pass their time definitely ring true.Back to the plot though. It soon becomes apparent that Father David's friendship with Mark and Lisa is ill-advised, though he has been too naive to see this. Having spent a life distracted by art and wine and intellectualism (and a little religion), he is not equipped to recognise manipulation, or to consider how others perceive him and his actions.Much is made in the book about the differences between Father David's life and the lives of his parishioners. The author writes in great detail about the family lives of Mrs Poole, and Mark, as though he has known people like these. I have known people like these. It is not that the author is simply using the other characters as a contrast to Father David. While social class could be argued as a factor in the way that the book's events are played out, I didn't believe that this was a book about class. For me, this is a heartbreaking and wonderful book about loss, regret and mourning of the path not taken.Father David is written as a sympathetic character - naive, but essentially well-meaning. We learn about his student days at Oxford at the height of political activism in the 1960s, his friendship with the 'Marcellists', a group of Proust followers, and about the tragic events which lead him to decide to join the priesthood. The priest chooses faith in God as a safety net against the pain and loss of loving, and it is his gradual realisation of this I think, that makes the book so tragic. His relative lack of experience in close relationships leaves him vulnerable. This is a warm, thoughtful and true to life story, and would have received 5 stars if I hadn't been so upset at the end.
Review by dylanwolf
16/06/2015
I much admired this understated story of a naive, intellectual and effete catholic priest whose rural past ill-prepares him for the challenges of a new urban parish on the depressed Ayrshire coast. This is an intensely sad tragedy, achingly melancholic, where the protagonist Father David Atherton is poorly equipped to do little but accept his fate. The book is a deep search of a community turned in on itself and desperately seeking its own soul as well as a insightful examination of the relationship between different generations. Father Atherton begins to live out a life he never experienced as a youth through his connections with three local teenagers. He makes mistakes and his loss of faith and unsure sexuality lead him into dangerous territory. This is a book I very highly recommend.
Review by missizicks
16/06/2015
I thought this book was incredible. From the very start, the prose pulled me into the main character's world. It struck me as being a meditation on what it actually involves to be human, to live a life that is frustrating, to try to find hope and a reason for your existence. It was interesting in its portrayal of a man using faith as a hiding place, and the crisis this brought about in his life because of the lack of honesty in his decision. The relationship between the main character and the teenagers who befriend him was well observed, the outcome unavoidable. And through it all O'Hagan's steady prose made the story believable.