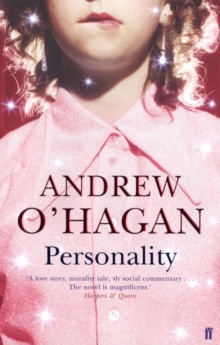 Description
Andrew O'Hagan's second novel, winner of the James Tait Black Memorial Prize, is a powerful tale about society, celebrity and self-destruction.Maria Tambini is a thirteen-year-old girl with a great singing voice.
Growing up on a small Scottish island, she is ready for the big time and keen to escape her ordinary life.
When she wins a national TV talent show, she becomes an instant star, yet all the time 'the girl with the giant voice' is losing herself in fame and in a private battle with her own body.
Can Maria be saved by love or is she destined to be consumed by celebrity, by family secrets, and by her number-one fan?'Enormously impressive, frequently curious and consistently ambitious.' Sunday Times'What he manages brilliantly is allowing us only restricted access to Maria's mind, so that the reader is put in something like the same relation to her as the sharkish agents and managers who suck her dry.' Guardian'Such command, such grace, and such compassion.' New York Review of Books
Information
Format: Paperback
Pages: 336 pages
Publisher: Faber & Faber
Publication Date: 01/04/2004
ISBN: 9780571217755
Other Formats
Hardback from £12.45
EPUB from £6.39
Free Home Delivery
on all orders
Pick up orders
from local bookshops
Reviews
Showing 1 - 1 of 1 reviews.
Review by Booksloth
16/06/2015
One evening in 1973, the nation sat down to watch its favourite talent show of the time. The name of the show was Opportunity Knocks, hosted by the odious (IMO) Hughie Green. Things weren't as savage then as they are now and there was at least some pretence of sympathy for the 'plucky' performers but, just as in similar shows today, the majority of them were pretty awful. As usual, there was a fair smattering of cack-handed jugglers, embarrassingly un-funny comedians and probably the odd singing dog act. (As a sideline here, one of the claims to fame of the show was that Su Pollard once came second to a singing dog which, to my mind, very nearly proved that there IS a god.)All over Britain mums were washing the dishes, dads were checking their football pools and the kids were, more or less, keeping quite and hoping for an extra hour in front of the telly before bed. And then the next performer walked onto the stage. She looked like every other child singer before her: the curls, the nervous big smile. She struck a pose and waited for the introductory notes from the band. She was ten years old, her name was Lena Zavaroni and the voice that belted out the first lines of Ma, He's Making Eyes at Me, was by Shirley Bassey out of Ethel Merman. The rest, as they say, was history.I was one of those people sitting in front of the TV that night; seventeen at the time and far too 'cool' to be particularly impressed by this little girl but over the years that followed, every now and then, another newspaper came up with another headline about the 'tragic child star' as her life, through adulation, press intrusion and, ultimately, her death from anorexia, became the warning for every mother who longs to put her daughter on the stage.Andrew O'Hagan's 'Personality' is not about Lena, as the disclaimer at the beginning makes clear, but the similarities to her life are too close to be coincidence. Like Lena, the book's 'heroine', Maria is born on the Isle of Bute in Scotland and wins Opportunity Knocks a record 7 times before going on to a solo career that takes her from variety to theatre tours to her own TV show. Many of the other stars Lena meets are real people too - O'Hagan just puts words into their mouths.This is a beautifully written book about the pitfalls of fame and the dark and lonely road that leads to anorexia. All the characters, major and minor, are complete and have their own stories, many of which could easily fill another book themselves. I was utterly charmed throughout and couldn't put the book down. It is also a great tribute to Lena despite not claiming to be biographical, giving a very real insight into the world of show business. Perhaps it is even fitting that a life most of us only knew from stories in the papers should be commemorated by a work of fiction. leaving Lena the privacy she could so rarely enjoy in her lifetime.