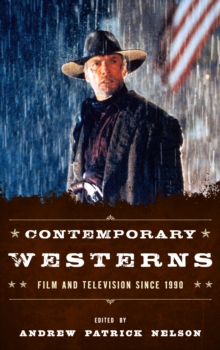 Contemporary Westerns : Film and Television Since 1990
Hardback
Description
Though one of the most popular genres for decades, the western started to lose its relevance in the 1960s and 1970s, and by the early 1980s it had ridden into the sunset on screens both big and small.
The genre has enjoyed a resurgence, however, and in the past few decades some remarkable westerns have appeared on television and in movie theaters.
From independent films to critically acclaimed Hollywood productions and television series, the western remains an important part of American popular culture.
Running the gamut from traditional to revisionist, with settings ranging from the old West to the "new Wests" of the present day and distant future, contemporary westerns continue to explore the history, geography, myths, and legends of the American frontier.
In Contemporary Westerns: Film and Television since 1990, Andrew P.
Nelson has collected essays that examine the trends and transformations in this underexplored period in Western film and television history.
Addressing the new Western, they argue for the continued relevance and vibrancy of the genre as a narrative form.
The book is organized into two sections: "Old West, New Stories" examines Westerns with common frontier locales, such as Dances with Wolves, Unforgiven, Deadwood, and True Grit. "New Wests, Old Stories" explores works in which familiar Western narratives, characters, and values are represented in more modern-and in one case futuristic-settings.
Included are the films No Country for Old Men and There Will Be Blood, as well as the shows Firefly and Justified. With a foreword by Edward Buscombe, as well as an introduction that provides a comprehensive overview, this volume offers readers a compelling argument for the healthy survival of the Western.
Written for scholars as well as educated viewers, Contemporary Westerns explores the genre's evolving relationship with American culture, history, and politics.
Information
Format: Hardback
Pages: 200 pages
Publisher: Scarecrow Press
Publication Date: 10/10/2013
Category: Film: styles & genres
ISBN: 9780810892569