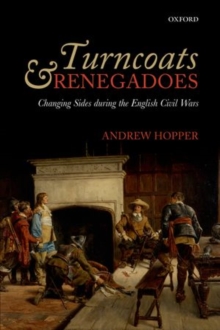 Turncoats and Renegadoes : Changing Sides during the English Civil Wars
Paperback / softback
Description
Turncoats and Renegadoes is the first dedicated study of the practice of changing sides during the English Civil Wars.
It examines the extent and significance of side-changing in England and Wales but also includes comparative material from Scotland and Ireland.
The first half identifies side-changers among peers, MPs, army officers, and common soldiers, before reconstructing the chronological and regional patterns to their defections.
The second half delivers a cultural history of treachery, by adopting a thematic approach to explore the social and cultural implications of defections, and demonstrating how notions of what constituted a turncoat were culturally constructed.
Side-changing came to dominate strategy on both sides at the highest levels. Both sides reviled, yet sought to take advantage of the practice, whilst allegations of treachery came to dominate the internal politics of royalists and parliamentarians alike.
The language applied to 'turncoats and renegadoes' in contemporary print is discussed and contrasted with theself-justifications of the side-changers themselves as they sought to shape an honourable self-image for their families and posterity. Andrew Hopper investigates the implementation of military justice, along with the theatre of retribution surrounding the trial and execution of turncoats.
He concludes by arguing that, far from side-changing being the dubious practice of a handful of aberrant individuals, it became a necessary survival strategy for thousands as they navigated their way through such rapidly changing events.
He reveals how side-changing shaped the course of the English Revolution, even contributing to theregicide itself, and remained an important political legacy to the English speaking peoples thereafter.
Information
Format: Paperback / softback
Pages: 272 pages, 12 black and white images
Publisher: Oxford University Press
Publication Date: 22/05/2014
Category: British & Irish history
ISBN: 9780198716716
Free Home Delivery
on all orders
Pick up orders
from local bookshops