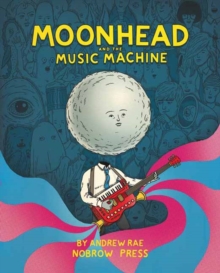 Moonhead and the Music Machine
Hardback
Information
Format: Hardback
Pages: 176 pages, Illustrated throughout in full colours
Publisher: Nobrow Ltd
Publication Date: 11/06/2014
Category: Comics and Graphic Novels
ISBN: 9781907704789
Free Home Delivery
on all orders
Pick up orders
from local bookshops
Reviews
Showing 1 - 4 of 4 reviews.
Review by ElizaJane
16/06/2015
July 15 - I'm not sure what to say or where to start with this review. I really liked this book, both the story and the art; however, I will admit I don't *get* it and am perplexed by its meaning. I don't really believe in over analyzing books; if you are not hit with deep profound meaning, philosophy, theology, etc. then don't look for it and just enjoy the entertainment. And that is what "Moonhead" was to me. Pure enjoyment. Joey Moonhead has an actual moon for a head, so does his mum and dad. Everyone else are normal human beings. Nobody makes an issue of this except that bullies tease him and grab his head to throw around and stuff. Joey gains some fame after competing in the school talent contest, gains self-confidence but also learns lessons about what happens when one forgets old friends on the way up, and the price paid to enter the "in crowd". I really felt for Joey and his female friend Sprocket. Even though I was completely baffled, the psychedelic transformations and accompanying artwork, when he played his music machine had me gleeful. I found the art totally impressive. Very sixties, Beatles, hallucinogenic. It's a difficult call on recommended age group but the story is about highschool and contains adult language, so certainly not for children even though the art does look cute. Very unique and whimsical.
Review by pussreboots
16/06/2015
Moonhead and the Music Machine by Andrew Rae is the story of a middle school or high school student who is drifting through school until he discovers the power of music. With the help of his dad and his friends, he sets out to build a musical instrument unlike anything that's come before it.The one odd thing about him, and his family, is that he has a moon for a head. That means he can literally space out. It's a weird conceit but it works. It works as a metaphor for being different than the majority. But it also works on a more literal level because there are so many unusual animation series right now where diverse groups of characters come together for slice of life stories. I'm not talking about racially diverse, though again, these characters are in part metaphoric. In stead I'm talking literally diverse and unusual and unexpected beyond even the classical mixture of animals that harken back to the earliest days of American animation.
Review by ecataldi
16/06/2015
This book made me feel as if I were on acid or something. It's a wee bit trippy, but not necessarily bad. This beautifully illustrated graphic novel follows Joet Moonhead as he attempts to rise above his not so awesome life. As can be imagined, the kids at school pick on him because HE HAS A MOON FOR A HEAD! He lusts after one of the popular girls, Melissa, but the only person who treats him normal is his friend Sockets. Joey decides that in order to be noticed (in a good way) by the people who matter he must form a band and play in the talent show. Joey can't just play any old music instrument, he has to make something really cool. With the help of his friend Ghostboy they make this crazy instrument and blow the socks off the whole school. Suddenly Joey Moonhead is too cool for Sockets. Is he letting popularity get to his already too large head? This book is utterly ridiculous. Thank goodness for the awesome illustrations. That's really what kept me going. The bright psychedelic colors are amazeballs. The storyline is your not so typical coming of age story. Due to the illustrations of some of Joey's lustier thoughts I wouldn't recommend this to young teens. That is unless you want to listen to parents chew you out about why there are colorful animals humping like crazy and phallic symbols (among others) galore. Interesting read....
Review by Sullywriter
16/06/2015
Joey is a normal kid in every way expect for one: he has a moon for a head. Weird and funny.