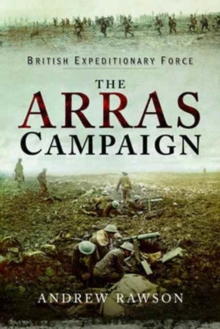 Description
This is an account of the British Expeditionary Force's actions during the spring of 1917\.
It begins with the Allied plans for the New Year and shows how they were undone by the German decision to withdraw to a pre-prepared defensive line.
The story follows the cautious advance across devastated territory to the Hindenburg Line and the subsequent revision in Allied plans.
The Arras offensive on 9 April resulted in the capture of Vimy Ridge by the Canadians and the longest advance by British troops since trench warfare began.
But attempts to replicate the success at places like Oppy, Roeux, Monchy and Bullecourt ended in bloody failure.
Each large battle and minor action is given equal treatment, giving a detailed insight into the most talked about side of the campaign, the British side.
There are details on the reasoning behind each battle, the objectives and the tactics.
There is discussion about how the infantry, the artillery, the cavalry, the engineers and Royal Flying Corps worked together.
We see how they used new techniques or made costly mistakes during the attacks.
Over sixty new maps chart the day by day progress of each battle and action.Together the narrative and maps provide an insight into the British Army's experience during this important campaign early in 1917\. Where possible the men who made a difference are mentioned; those who led the attacks, those who faced the counter-attacks and those who were awarded the Victoria Cross.
Discover the spring 1917 campaign experienced by the British Army and learn how its brave soldiers fought and died achieving their objectives.
Information
Format: Hardback
Pages: 244 pages, 50 maps - integrated and an 8 page plate section
Publisher: Pen & Sword Books Ltd
Publication Date: 24/04/2017
Category: British & Irish history
ISBN: 9781473892910
Free Home Delivery
on all orders
Pick up orders
from local bookshops