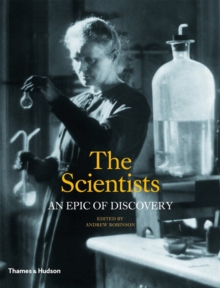 Description
This book tells the remarkable lives of the pioneers of science from Galileo and Newton, Faraday and Darwin, Pasteur and Marie Curie, to Einstein, Freud, Turing, and Crick and Watson.
A series of seventy articles, written by an international team of distinguished scientists, historians of science and science writers, provides an unrivalled account of the lives and personalities behind the greatest scientific breakthroughs of all time. Organized thematically, starting at the Universe, and moving smaller through the Earth and Molecules and Matter to Inside the Atom, with the final two sections looking at Life and Body and Mind, it covers all the major scientific disciplines, including astronomy, biology, biochemistry, chemistry, computing, ecology, geology, medicine, neurology, physics and psychology, as well as mathematics. "The Scientists" will intrigue budding scientists, those fascinated by the lives of great individuals, and anyone curious to know how over the centuries we came to understand the physical world around us and inside us.
Information
Format: Hardback
Pages: 304 pages, 200 illustrations, 150 in colour
Publisher: Thames & Hudson Ltd
Publication Date: 01/09/2012
Category: History of science
ISBN: 9780500251911
Free Home Delivery
on all orders
Pick up orders
from local bookshops
Reviews
Showing 1 - 1 of 1 reviews.
Review by passion4reading
16/06/2015
Previous to reading The Scientists, I read Simon Flynn's excellent The Science Magpie: A Hoard of Fascinating Facts, Stories, Poems, Diagrams and Jokes, Plucked from Science and Its History, and because he had mentioned in it so many eminent scientists that I'd never heard of, I decided to follow it up by reading a selection of essays about forty-three of the world's most famous scientists that is contained within this substantial volume. This is a gloriously produced hardcover edition with a multitude of fantastic reproductions of portraits, photographs, maps, documents and diagrams from the period that help to make the scientists and their individual achievements more accessible to the reader. These essays are written by different authors, each an expert in their field and an established scientist, and the enthusiasm and admiration for their subject comes easily across. For some it was more difficult than others to bring the person behind the scientific accomplishments to life; in several cases I found that the individual was entirely hidden behind an enumeration of their various attainments. Others were clearly written by experts in the field for other experts, so that I, as an interested layperson, struggled to follow. Yet others, among them Patrick Moore's article about Edwin Powell Hubble, were an enormous pleasure to read, because they managed to get across the person and the science in for a non-expert easy-to-understand language. Some reviewers have called this volume a "coffee-table book", rather unjustly, I find. These are scientists that, in the words of Virginia Morell, "shattered old ideas and ways of thinking"; they dispensed with dogma and opened the way for a scientific understanding of the world that, in large parts, is still valid to this day and was used by subsequent pioneers to build their ideas on in turn. Their names should be, if not household names, then at least much better known. I chose to read this book from cover to cover, other readers will probably decide to only read about the section they're interested in: Universe, Earth, Molecules and Matter, Inside the Atom, and Body and Mind; each part is preceded by a brief introduction, and there's an extensive bibliography added at the end. Of course this is a rather subjective selection, and others may (and will) disagree with the choice of scientists chosen and those who were omitted (I, for one, had hoped to see a few more women chosen (there are only three)), but this is an excellent introduction to some of the brightest minds history has ever produced and a fascinating foray into how we came to see the world today: built on a succession of discoveries and ideas. Highly recommended for anyone with an interest in the science and its history.(This review was originally written as part of Amazon's Vine programme.)