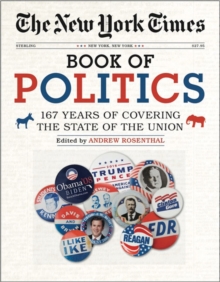 The New York Times Book of Politics
Hardback
Description
For 167 years, The New York Times has been in the forefront of political reporting--from memorable campaigns and elections to controversial legislation, scandals, and issues ranging from immigration, race, and gender to the economy and war. In today's turbulent times, the newspaper's political coverage is more relevant than ever; not only for the news itself, but because of the paper's leadership in defending the freedom of the press. Compiled by noted New York Times editor Andrew Rosenthal, this anthology explores the newspaper's broad scope of unparalleled political coverage and examines what has changed over the decades and what remains the same.
Covering stories from 1856 to 2018, it features presidential milestones: the astounding 1860 triumph of Republicanism with Abraham Lincoln's election and Senator Barack Obama's 2008 presidential victory as racial barriers seemed, perhaps prematurely, to fall.
Wars: the start of the atomic age, the fall of Saigon, the conflict in Iraq.
Important legal issues like the ratification of the 19th amendment in 1920, the 2000 Florida presidential recount, and same-sex marriage.
The course of the country's economy, such as the 2008 financial disaster and President Donald Trump's tax overhaul.
Momentous protests, like the 1963 March for Civil Rights, Kent State, the takeover of Wounded Knee, Black Lives Matter, and the MeToo movement.
Political scandals and investigations, from Watergate to the firing of F.B.I. director James B. Comey. And so much more. With 60 photographs as well as reproductions of front-page stories, here are the noteworthy political articles from The New York Times archives that are sure to engross readers. Included are stories on tumultuous campaigns and surprising elections, scandals that rocked the world, the waging of war--from "good" wars (World Wars I and II) to "bad" wars (Vietnam), groundbreaking legislation, important protests, and hot button issues like feminism, LGBTQ rights, and DACA.
The 81 articles include: "Demands Oil Regulation--La Follette Committee Suggests 8 Immediate Remedies" (March 5, 1923)"Welch Assails McCarthy's 'Cruelty' and 'Recklessness' in Attack on Aide"--W.
H. Lawrence (June 10, 1954)"Vietnam: The Signs of Stalemate"--R.
W. Apple Jr. (August 7, 1967)Goal Is Harmony--President-Elect [Nixon] Vows His Administration Will Be "Open"--Robert B.
Semple Jr. (November 7, 1968)"Senators Bar Weakening of Equal Rights Proposal"--Eileen Shanahan (March 22, 1972)"Goldwater Vows to Fight Tactics of 'New Right'"--Judith Miller (September 16, 1981)"Raze Berlin Wall, Reagan Urges Soviet"--Gerald M.
Boyd (June 13, 1987)"Riots in Los Angeles: The Blue Line"--(May 1, 1992)"Bush Lets U.S.
Spy on Callers without Courts"--James Risen and Eric Lichtblau (December 16, 2005)"Senate Repeals Ban Against Openly Gay Military Personnel"--Carl Hulse (December 18, 2010)"Donald Trump Is Elected President in Stunning Repudiation of the Establishment"--Matt Flegenheimer and Michael Barbaro (November 9, 2016)"How G.O.P.
Leaders Came to View Climate Change as Fake Science"--Coral Davenport and Eric Lipton (June 3, 2017)"After 16 Futile Years Congress Will Try Again to Legalize 'Dreamers'"--Yamiche Alcindor and Sheryl Gay Stolberg (September 5, 2017)
Information
Format: Hardback
Pages: 352 pages, 45 2-colour illustrations
Publisher: Sterling Publishing Co Inc
Publication Date: 06/12/2018
Category: Politics & government
ISBN: 9781454931263
Free Home Delivery
on all orders
Pick up orders
from local bookshops