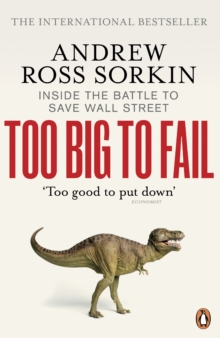 Too Big to Fail : Inside the Battle to Save Wall Street
Paperback
Description
SHORTLISTED FOR THE BBC SAMUEL JOHNSON PRIZE 2010They were masters of the financial universe, flying in private jets and raking in billions.
They thought they were too big to fail. Yet they would bring the world to its knees.Andrew Ross Sorkin, the news-breaking New York Times journalist, delivers the first true in-the-room account of the most powerful men and women at the eye of the financial storm - from reviled Lehman Brothers CEO Dick 'the gorilla' Fuld, to banking whiz Jamie Dimon, from bullish Treasury Secretary Hank Paulson to AIG's Joseph Cassano, dubbed 'The Man Who Crashed the World'.Through unprecedented access to the key players, Sorkin meticulously re-creates frantic phone calls, foul-mouthed rows and white-knuckle panic, as Wall Street fought to save itself.
Information
Format: Paperback
Pages: 640 pages
Publisher: Penguin Books Ltd
Publication Date: 26/06/2010
Category: Financial crises & disasters
ISBN: 9780141043166
Free Home Delivery
on all orders
Pick up orders
from local bookshops
Reviews
Showing 1 - 1 of 1 reviews.
Review by Periodista
16/06/2015
Believe it or not, quite a zippy read (600-plus pages, including index, character cast and afterword). But for all that, does it adequately explain how it went so wrong? Nope. As with Michael Lewis's The Big Short, I'm still left wondering: stupid or evil?The problem is that the period most intensely covered here is so brief. It starts shortly before the Lehman collapse in September 2008 and then dives into all the frantic behind-the-scenes manoeuvring of the bank execs, AIG, Treasury secy Paulson and the Federal Reserve in the following few weeks. All fine and I especially liked learning about the extent of the govt's powers to regulate and intervene. Sorkin researched and interviewed like a demon to get all this detail.BUT this choice means that the banks have already discovered their desperate situation. I can pinpoint a few people, now ousted in this timeline, that deserve blame and possibly prosecution: Stan O'Neal of Merrill Lynch and Martin Lynch of AIG. But I'd like to scroll back in time and see how they started accumulating this crap and how AIG decided to offer insurance for them. Goldman Sachs, Paulson's old firm, didn't get much involved in these mortgage-backed securities. Neither did Wells Fargo. Why? Who did the analysis?There is an afterword and an epilogue in my 2010 edition but it's nowhere near enough to illuminate any reader's most burning questions: Was there a better way to do bailouts? Sure, these surviving banks have repaid their loans, but was it enough? Who should be in prison right now? Surely there was a way that Congress could have cancelled the compensation contracts? What's the state of bank regulation right now?Anyone looking for a revolving door, govt-Wall Street conspiracy will be disappointed. I don't see any evidence that the banks entered such a dangerous business counting on a govt rescue or Congressional rescue. Paulson, who had to be a source, comes off quite well, trying to do what's right and as pissed off as any citizen when confronted with banker boneheaded-ness. He certainly didn't want a bailout--neither did Republicans or Democrats in Congress. And his every movement and phone call is documented.The book could have done a better job of explaining the urgency of action. Sorkin should have spelled out in the immediate aftermath of the Lehman collapse what was happening around the world, how all these banks have interlocking obligations. It was like dominos collapsing. You're a company with a stellar credit rating expecting your goods to be picked up in Abu Dhabi and the bank won't honor your letter of credit. And the bank can't be blamed really. A half a dozen huge shipping firms collapsed at the end of 2008.FWIW, Too Big to Fail does a very poor job of defining sub-prime mortgage, credit default swap and collaterized debt obligations. It doesn't try until hundreds of pages in. For that, dip into Michael Lewis. You don't have to read his entire book but at least that is explained very well.As for the issue or prosecution. The New Yorker's George Packer provides a partial answer in a Q and A accompanying his June 2011 story on an unrelated insider trading case that was prosecuted. Yes, there are quite a few prosecutions against Countrywide and other mortgage companies. More civil suits. Also some cases being brought by the FDIC and SEC. But a major impediment seems to have been the way investigations were doled out to federal district courts in parts of the country other than New York's--New York having the best expertise to investigate such kinds of crimes. But he also quotes the current New York prosecutor on the need to have hard evidence--like wiretaps and e-mails. Hard to believe there isn't or wasn't a bunch of the latter as the investment banks bought and sold CDOs.
Also by Andrew Ross Sorkin