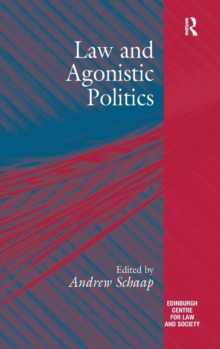 Law and Agonistic Politics
Hardback
Description
The Ancient Greek notion of agonism, meaning struggle, has been revived in radical legal and political theory to rethematize class conflict and to conceptualize the conditions of possibility of freedom and social transformation in contemporary society.
Insisting that what is ultimately at stake in politics are the terms in which social conflict is represented, agonists highlight the importance of the strategic, affective and aesthetic aspects of politics for democratic praxis. This volume examines the implications of this critical perspective for understanding law and considers how law serves either to sustain or curtail the democratic agon.
While sharing a critical perspective on the deliberative turn in legal and political theory and its tendency to depoliticize social conflict, the various contributors to this volume diverge in arguing variously for pragmatic, expressivist or strategic conceptions of agonism.
In doing so they question the glib assumptions that often underlie a sometimes too easy celebration of conflict as an antidote to de-politicizing consensus. This thought provoking volume will be of interest to students and researchers working in legal and political theory and philosophy.
Free Home Delivery
on all orders
Pick up orders
from local bookshops