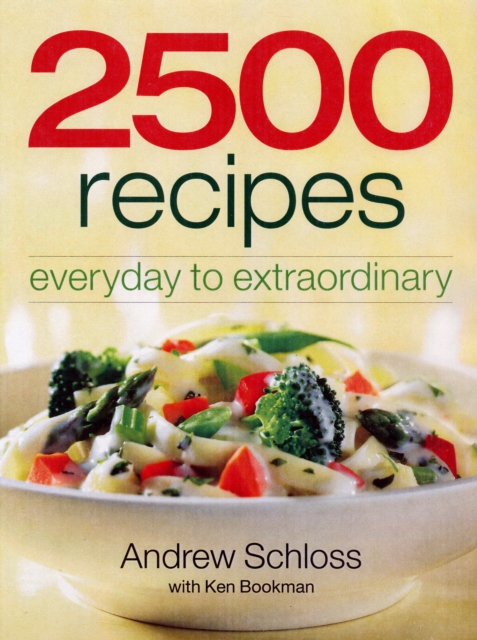 2500 Recipes: Everyday to Extraordinary
Paperback / softback
Description
How to escape the cooking routine of the same old dishes, meal after meal. Many home cooks are stuck in a food routine that includes preparing the same 10 or 15 recipes over and over again, week after month after year. 2500 Recipes, the ideal guide to escaping that routine, offers 50 recipes each for foods ranging from snacks and sandwiches, to chicken and ground meat; from shellfish to grains; from winter vegetables to summer fruit.
There's also a special section of dishes for special occasions. Consider this common scenario. There is a chicken waiting to be roasted for dinner.
Stop. Go the chapter that has 50 recipes for roast chicken.
Each one is different. Most important, there are sure to be a few that are more interesting than that old reliable one prepared out of habit -- too often a bad habit.
Without doubt, there will be dozens of recipes based on ingredients commonly on hand to please cook, family and guests.
There's even a chapter with 50 scrumptious recipes for burgers and hot dogs.
Each one is sure to delight. All the recipes are quick, and most use just a small number of ingredients.
But each recipe includes a "power flavor" that's easy to obtain and easy to incorporate into cooking routines.
Examples include oils, herbs, olives and sun-dried tomatoes. There is also an entire section on basic cooking techniques and preparations, featuring seasonings, marinades, sauces, dressings and machines. AUTHOR: Andrew Schloss is a well-known teacher, writer and food industry consultant.
The author of 10 cookbooks and countless food articles, he is a past president of the International Association of Culinary Professionals. Ken Bookman is a writer and editor as well as the former food editor of the Philadelphia Inquirer.
He is also the co-author of six cookbooks.
Information
Format:Paperback / softback
Pages:448 pages, printed in two colours
Publisher:Robert Rose Inc
Publication Date:01/01/2007
Category:
ISBN:9780778801627
Information
Format:Paperback / softback
Pages:448 pages, printed in two colours
Publisher:Robert Rose Inc
Publication Date:01/01/2007
Category:
ISBN:9780778801627