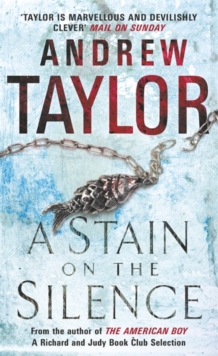 A Stain on the Silence
Paperback
Description
A Stain on the Silence is a gripping thriller from the bestselling author of The Ashes of London You can run from a guilty conscience, but you can't hide ...James wasn't much more than a child when he had an affair with Lily. And now, twenty-four years later, Lily confesses to James that their affair led to a daughter, Kate. And Kate desperately needs her father's help: she's wanted for murder. But there is no room for murder in James's life. He has a wife, a good job, a nice house in the country ...As Kate comes crashing into his world, so she lights the fuse under his ordered life. Because James has also been keeping a secret - a very dark and deadly one...
Information
Format: Paperback
Pages: 432 pages
Publisher: Penguin Books Ltd
Publication Date: 25/01/2007
Category: Crime & mystery
ISBN: 9780141018607
Free Home Delivery
on all orders
Pick up orders
from local bookshops
Reviews
Showing 1 - 2 of 2 reviews.
Review by nocto
16/06/2015
I found this a bit more obvious and less engaging than some of Taylor's other books. Still a good read mind, just not my favourite.
Review by Ayling
16/06/2015
I can always rely on Andrew Taylor to write me a good book. It was very enjoyable and elegantly written.I think this is one of his few modern day books - most of his others are set in the past. However, I really enjoyed it and he keeps you waiting right up to the end.A Stain of Silence is about a man whose past comes back to haunt him. As a young man, James had an affair with his best friend's mother which in the end produced a child - Kate. Twenty-four years later she come back into his life asking for help - she's suspected of murder.Taylor has a very beautiful way of writing. He is gentle, insightful and knows just how to give you a certain amount of information and then just pulls back a little - not quite saying everything but leaving you wanting to read more. I would describe Taylor as a very graceful writer - graceful, gentle, subtle and beautiful. You feel the words rather then read them. I would say his characters are not so well developed as they have been in his previous books and the story far more plot based - but considering this is Andrew Taylor he is still on top form!I love it when you can get into a good book like this and also be able to enjoy the writing for what it is. All in all, I will just say that I love this author and would read anything he comes out with.