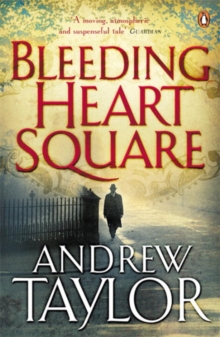 Bleeding Heart Square
Paperback
Description
Bleeding Heart Square is a tense historical thriller from the bestselling author of The Ashes of London1934, LondonInto the decaying cul-de-sac of Bleeding Heart Square steps aristocratic Lydia Langstone fleeing an abusive marriage.
However, unknown to Lydia, a dark mystery haunts Bleeding Heart Square.
What happened to Miss Penhow, the middle-aged spinster who owns the house and who vanished four years earlier?
Why is a seedy plain-clothes policeman obsessively watching the square?
What is making struggling journalist Rory Wentwood so desperate to contact Miss Penhow?And why are parcels of rotting hearts being sent to Joseph Serridge, the last person to see Miss Penhow alive?
Information
Format: Paperback
Pages: 496 pages
Publisher: Penguin Books Ltd
Publication Date: 27/01/2009
Category: Crime & mystery
ISBN: 9780141018614
Free Home Delivery
on all orders
Pick up orders
from local bookshops
Reviews
Showing 1 - 3 of 3 reviews.
Review by nicx27
16/06/2015
Lydia Langstone leaves her abusive husband and goes to live with her father at 7 Bleeding Heart Square. A strange place, the square has its own chapel and the house itself is home to a number of intriguing people. Lydia meets Rory Wentwood who is looking into the mysterious disappearance of Miss Penhow, the house's owner. I liked this book more than I thought I would. For some reason I thought it was set in Victorian times which is not one of my favourite genres, but then realised it's actually set in the 1930s. There is a interesting side-story about the rise of the fascist party in that decade but the main story concerns Miss Penhow and what might have happened to her. It took a little while for me to get into the story because there's quite a lot going on and it became quite complicated but I soon became engrossed in it and I ended up really enjoying it.It all came together well as the story progressed and the ending in particular was a surprise. There was some clever plotting involved. This is the first of Andrew Taylor's books that I have read but I would definitely read more.
Review by Ayling
16/06/2015
I've just finished this book and I'm not sure what to put. It is by my favourite author and reading one of his books makes me feel instantly happy and at home as this one did. I really did enjoy this book and as usual it was very well written.However the ending didn't really have me racing to finish it and I thought the actual mystery element of the story was fairly weak and slow. However, this does not detract from what makes this a good book.It is set on a back drop of the confused political atmosphere of the 1930's, when differing ideas such as Fascism and Communism were cooking in the pot and another war looked in the future - something many people feared and were in denial about. It is an interesting setting. We look back and with hind sight we would rather dissociate ourselves against the fact that once Fascism was actually quite a popular ideology in England as much as anywhere else. The idea of power and standing together banging our drums... Each chapter starts with a strange ominous narrator in the second person and an entry from a diary of a missing woman of whom the principle mystery surrounds. The story follows Lydia Langstone who has run away from her husband to live in Bleeding Heart Square with her father (actually Bleeding Heart Yard) where she becomes embroiled in the mystery of the previous owner of the house, who is the author of the diary entries you read. Andrew Taylor excels at characterization and creating a startlingly real setting and atmosphere of 1930's London. He does not fault in this novel either - he uses language to weave together his story, gently building the mystery up and despite its slowness, rarely a page goes by that does not throw something else up.Reading something by Andrew Taylor is like closing your eyes and entering a different world. This isn't a rip-roaring crime mystery or thriller, your heart isn't going to be beating in your chest - but if you would like to read something that looks more at the social setting, something written so beautifully you could swim in the turns of phrases, this book fit the bill.
Review by AdonisGuilfoyle
16/06/2015
I do like Andrew Taylor's books, but the best word to describe his style is probably 'meandering'. The tangled plot of <I>Bleeding Heart Square</I> did keep me interested, but getting to the reveal was hard going at times. The characters are well developed, from determined heroine Lydia to the skin-crawling Mr Serridge, and the atmosphere, as always with Taylor, is incredibly dark and claustrophobic. I also admire how the author wove such a Dickensian tale from real life, grounding his gothic adventure in modern history. Good, but slow.