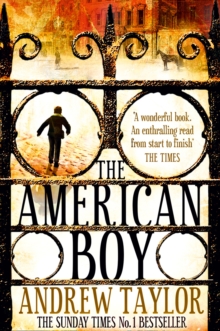 The American Boy
Paperback
Description
The No. 1 bestseller and award-winning Richard & Judy Book Club pick.
An atmospheric and deeply absorbing literary historical crime classic - featured in The Times `Top Ten Crime Novels of the Decade'. England 1819: Thomas Shield, a new master at a school just outside London, is tutor to a young American boy and the child's sensitive best friend, Charles Frant.
Helplessly drawn to Frant's beautiful, unhappy mother, Thomas becomes entwined in their family's affairs. When a brutal murder takes place in London's seedy backstreets, it is not certain who either the victim or the killer is.
But all clues seem to lead back to the Frant household, and Shield is tangled in a web of lies, money, sex and death that threatens to tear his new life apart. And what of the strange American boy at the heart of these macabre events - what is the dark secret of young Edgar Allan Poe?
Information
Format: Paperback
Pages: 512 pages
Publisher: HarperCollins Publishers
Publication Date: 05/07/2004
Category: Crime & mystery
ISBN: 9780007109609
Other Formats
EPUB from £6.49
eAudiobook MP3 from £6.79
Free Home Delivery
on all orders
Pick up orders
from local bookshops
Reviews
Showing 1 - 5 of 7 reviews.
Previous | Next
Review by hotchk155
16/06/2015
A gripping page-turner of a thriller with a superbly exceuted period feel.
Review by Clurb
16/06/2015
A bit of light historical thriller fiction. Pretty good for a rainy day.
Review by eleanor_eader
16/06/2015
If anything, the words 'Short-listed by Richard & Judy's Book Club 2005' almost made me return the paperback to the shelf. I have talk-show (even refined and revered talk-show) snobbery. But I glanced at the back cover and spotted the tail end of the Telegraph review '...quiet corner to continue your acquaintance with it.' A book you can have an acquaintanceship with? That, I thought, doesn't come along often.I'm so very grateful that I was persuaded to read it. I might have to start paying attention to Richard & Judy's other book selections on the strength of this. It's one of the best things I have turned my attention to in a long time, all the better for being just a shade different from everything else. It's an historical fiction, a murder-mystery, loosely based around events surrounding Edgar Allan Poe's childhood, but not quite aspiring to 'based on a true story'hood. If anything, the vast scope of fiction works in the book's favour. It is a story, and the presence of a handful of historically genuine figures a mere curiosity that improves the flavour of the novel.It is a nice coincidence that I have been slating Tess of the d'Urbervilles recently... the ordinary hero of this story, the tutor of young Edgar Allan and his friend Charlie, one Thomas Shield, is as much a victim of circumstance, malign intent and passivity as the vacant Tess, yet more richly drawn and enlivened with an education, mindfulness, nicety and simple likability. He is aware that his feelings for two women of the same household is inappropriate and likely to embroil him deeper than he cares to go in the entanglements of their lives, yet makes no excuses nor apologises for his desires. His absent affection for his charges is enough to secure our view of him as a worthy narrator, and his humbling changes of fortune find us sympathetic rather than impatient.Nor is he the only worthwhile character. The ladies are treated with the tyrannous oversight and objectifying of the time, yet retain character and dignity. The villains are human and the narrator's friendly refuges few enough to make them prized even to the reader.There is an element of humour that freshens the book delightfully, without obstructing the mannerly narration, and an occasional gem of a phrase that simply made me smile. 'We moved apart and re-arranged our limbs and our feelings' I particularly remember, but I also enjoyed his interaction with the various children he encountered. It's an elegant and fitting read, despite the distinct advancing of a plot.The slightest flaw lies with the ending ... not the narrator's ending, which would have been wholly satisfying, but what seems to be a tying up of loose-ends. The problem with this being that there really aren't any and the last few pages are more or less redundant, and at worst unnecessarily undermining of our trust in the narrator that got us there. This conclusion is at least brief, and not jarring in style, but slightly disappointing for all that.I'm giving this book 9.5/10, a score that means nothing to anyone. If you enjoy du Maurier, the Brontes, Dickens, (yes, alright, Hardy) and perhaps Poe himself, this is certainly for you. If you haven't delved into the world of historical fiction, on the basis that it's nothing but nancing gits and ball gowns, this would be an excellent opportunity to dispel these illusions. It's fantastically readable, the romance at all times overshadowed by murder, money, deceit and duty, and Edgar Allan Poe is in it. And Edgar Allan Poe is so, like, OMGgoth.
Review by LadyN
16/06/2015
I chose this one based on it's back cover blurb... sometimes that is a mistake, but it's all one has to go on. I found it instantly forgettable - a shame since the potential was there for an exciting period piece.
Review by booksweremyfirstlove
16/06/2015
A wonderfully melodramatic Dickensian novel with a very complicated plot. With murder and romance.