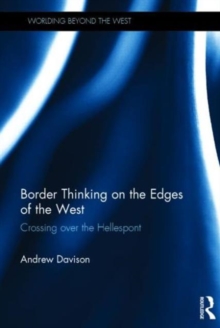 Border Thinking on the Edges of the West : Crossing Over the Hellespont
Hardback
Description
Drawing on scholarly and life experience on, and over, the historically posited borders between "West" and "East," the work identifies, interrogates, and challenges a particular, enduring, violent inheritance - what it means to cross over a border - from the classical origins of Western political thought.
The study has two parts. The first is an effort to work within the Western tradition to demonstrate its foundational and enduring, violent conception of crossing over borders.
The second is a creative effort to explore and encourage a fundamentally different outlook towards borders and what it means to be on, at, or over them.
The underlying social theoretical disposition of the work is a form of post-Orientalist hermeneutics; the textual subject matter of the two parts of the study is linked using Walter Benjamin's concept of the storyteller.
The underlying premise of the work is that the sense of violent possibility on the borders between "West" and "East" existed well before the more recent "age of imperialism" and even before there was a "West" or an "East" to speak of.
That sense is constitutive of a political imagination about borders developed deep within the revered sources of Western culture.
On the other hand, confronting the influence of such violent imaginaries requires truly novel modes of hermeneutical openness, hospitality and solidarity. Seeking to offer a new understanding and opening in the study of borders, this work will provide a significant contribution to several areas including international relations theory, border studies and political theory.
Information
Format: Hardback
Pages: 294 pages
Publisher: Taylor & Francis Ltd
Publication Date: 09/01/2014
Category: Geopolitics
ISBN: 9780415709798
Also in the Worlding Beyond the West series | View all