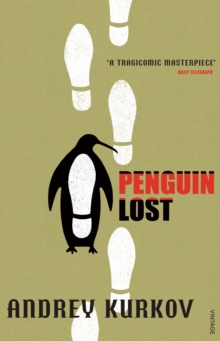 Description
Viktor - last seen in Death and the Penguin fleeing Mafia vengeance on an Antarctica-bound flight booked for Penguin Misha - seizes a heaven-sent opportunity to return to Kiev with a new identity.
Clear now as to the enormity of abandoning Misha, then convalescent from a heart-transplant, Viktor determines to make amends.
Viktor falls in with a Mafia boss who engages him to help in his election campaign, then introduces him to men who might further his search for Misha, said to be in a private zoo in Chechnya.
What ensues is for Viktor both a quest and an odyssey of atonement, and, for the reader, an experience as rich, topical and illuminating as Death and the Penguin.
Information
Format: Paperback
Pages: 256 pages
Publisher: Vintage Publishing
Publication Date: 03/03/2005
ISBN: 9780099461692
Free Home Delivery
on all orders
Pick up orders
from local bookshops
Reviews
Showing 1 - 4 of 4 reviews.
Review by HeikeM
16/06/2015
PENGUIN LOST is the sequel to DEATH AND THE PENGUIN which I enjoyed very much. And you should read the first one to begin with. It is about a man and his penguin in Russia, their lives and adventures, the russian Mafia, crime, gangsters, funerals, obituaries, frozen fish, little girls, heart transplants and death. The sequel starts exactly where the first one ended and brings all the unfinished business to a conclusion. And there are more gangsters, cremations, politicians, elections, little girls, gold, German shepherds and frozen fish.It is a fantastic ride on a very frightening roller-coaster and so much fun. Wonderful language as well and not so very big, so even if you read slowly - you be through soon enough.
Review by isabelx
16/06/2015
At the start of the book, Viktor is in hiding at an Antarctic research base, and has a very bad conscience about taking Misha's place on the aeroplane for himself. A dying Russian businessman who is also in hiding there, pays for his return journey in return for taking a message and a credit card to his wife in Moscow. The story is rather fragmented this time, with Viktor going to Moscow and then Chechnya in his search for Misha. In Chechnya he ends up working at a crematorium, run by a strictly neutral basis by the Russian businessman who now owns Misha, and on his return, he reluctantly becomes an Aide to a Ukrainian politician.This is a Black comedy with a satirical take on corruption in politics, business and the media, as well as Russia's war in Chechnya, but the story is too episodic, and doesn't hang together as well as "Death and the Penguin". I found it rather too convenient that Viktor was given the credit card, which lets him buy himself out of all his difficulties.
Review by ten_floors_up
16/06/2015
Another darkly comic tale of circumstances where survival, even before prosperity, hinge upon hard cash, collateral, influence and protection. Quick wits and a healthy dollop of good fortune help too. Then there's the small matter of where personal responsibility and commitments to friends, loved ones - or penguin - come into the finely-balanced equation. Read "Death and the Penguin" before starting this, if you haven't done so already. Highly recommended.
Review by AHS-Wolfy
16/06/2015
The direct sequel to [Death and the Penguin] finds Ukrainian writer Viktor hiding out at a science station in Antarctica. He's feeling bad about leaving Misha behind and when an opportunity presents itself Viktor is quick to return home and try and locate the penguin and make it up to him. Unfortunately this proves not such a simple task as visiting the veterinary clinic where he left him and Viktor is soon caught up in other troubles once again. Employed as a political aide by Andrey Pavlovich, a local entrepreneur running for Deputy, it offers a modicum of protection against those who still may seek to do him harm. In return for his services to the campaign, Viktor is offered help in his search for Misha.The black comedy of the first book continues in this one though the narrative doesn't flow quite so well being more episodic in nature. It continues to cast light on corruption within all levels of society, the role of the media and also delves into Russia's war with Chechnya. An enjoyable farce if not quite on a par with the earlier book which you really should read prior to this.