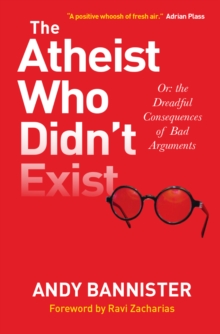 The Atheist Who Didn't Exist : Or the dreadful consequences of bad arguments
Paperback
Description
In the last decade, atheism has leapt from obscurity to the front pages: producing best-selling books, making movies, and plastering adverts on the side of buses.
There's an energy and a confidence to contemporary atheism: many people now assume that a godless scepticism is the default position, indeed the only position for anybody wishing to appear educated, contemporary, and urbane.
Atheism is hip, religion is boring. Yet when one pokes at popular atheism, many of the arguments used to prop it up quickly unravel.
The Atheist Who Didn't Exist is designed to expose some of the loose threads on the cardigan of atheism, tug a little, and see what happens.
Blending humour with serious thought, Andy Bannister helps the reader question everything, assume nothing and, above all, recognise lazy scepticism and bad arguments.
Be an atheist by all means: but do be a thought-through one.
Information
Format: Paperback
Pages: 240 pages
Publisher: Lion Hudson Plc
Publication Date: 24/07/2015
Category: Religious issues & debates
ISBN: 9780857216106
Free Home Delivery
on all orders
Pick up orders
from local bookshops
Reviews
Showing 1 - 2 of 2 reviews.
Review by alekee
10/11/2015
When I saw this book had a forward by Ravi Zacharias I knew I wanted to read this, and was not disappointed.What a remarkable gift and talent Andy Bannister possesses, such a quick wit and enjoyable read. Each chapter contains a story and his points are filled with chuckles and humor. While not everyone enjoys this type humor his points are right on, and we all know that atheists would not exist without Christians.I have always wanted some comeback to address people who attack my Christian faith, and reading through this book, chapter by chapter there are lots of logical facts that place the shoe on the other foot. I recommend this book, you won't be disappointed and you just might gain a wealth of information.I received this book through Kregel Publishing Blogger Tour, and was not required to give a positive review.
Review by Harley0326
10/11/2015
I have set this book aside for awhile knowing that I would have to review it at some point. I volunteered to read and give an honest review. When doing reviews, it is always wise to try to stick to the facts of a book and not give personal opinions. After all, to be fair to the author we review to critique the work, not argue if we believe what the writer puts in their book. I have always tried to be honest in my review and with this book I will continue to abide by my integrity. I will state that I am a Christian and understand that some are offended by that statement. The author is stating his beliefs and giving examples of why he believes God exists. I was told that several people have reviewed this book and many people responded negatively to their review. I know who I am in Christ and will not go to the level of argument just to give a platform to someone who is quick to attack or pass judgment. The author says that his purpose for this book is simple ,"to clear away some of the weeds of bad arguments so that a more sensible dialogue can be had." He goes on to say , " the God Question is arguably the most important question that anybody can think about." The author states that as an atheist they deserve the right to discuss their belief and give facts as to why they believe there is no God. Non believers ask the question to prove there is a God, so as atheist the same must be stated for them to disprove God exists. Mr. Bannister says that, "if you believe God does not exist , you are highly likely to believe that physics, chemistry , and biology can explain everything"The book has many examples that prove God does exist. The author uses humor in some areas to get his point across easier and perhaps to open minds to the idea that God is real . He is very outspoken and compassionate about his belief. Through all his examples and facts he says,"If Jesus is who he claimed to be , then because of his history and in spite of ours we can have a future. Perhaps it is time we laid bad arguments aside, even just for a few hours, and gave Jesus a careful, considered look."I received this book from The BookClub Network for an honest review.