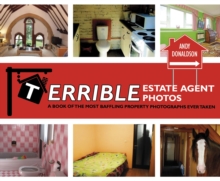 Terrible Estate Agent Photos
Hardback
Description
FOR SALE: From the creator of the viral blog sensation TerribleRealEstateAgentPhotos.com, a book of the most baffling property photographs ever taken.
With over 100 previously unpublished photos, early viewing is STRONGLY recommended.
The mantra 'location, location, location' often concerns buying a house, but some estate agents would do well to apply it to their photography.
Should one, for instance, locate the camera in front of a fossilised garden chair?
An overflowing ash tray? An elderly relative hustling out of shot? Has thought been spared for the location of that dirty underwear?
Those psychedelic curtains? Out of touch with realty, less Rankin and more plain rank, some of the worst offenders should perhaps consider relocating to another industry.
Luckily for us, they haven't yet. The mystifying property photographs gathered here are an endless source of confusion, confusion, confusion, frustration, frustration, frustration and, perversely, satisfaction, satisfaction, satisfaction.
Reactions to TerribleRealEstateAgentPhotos.com: 'One of the funniest things on the web' - Guardian 'Hilarious' - Tom Standage, Economist 'Brilliant' - Graham Linehan 'Astonishing' - Daily Mail 'Hilarious' - Time Out 'Marvellous' - Independent 'Amazing' - Der Spiegel
Information
Format: Hardback
Pages: 160 pages
Publisher: Vintage Publishing
Publication Date: 01/09/2014
Category: Photographs: collections
ISBN: 9780224100915
Free Home Delivery
on all orders
Pick up orders
from local bookshops
Reviews
Showing 1 - 1 of 1 reviews.
Review by RobertDay
27/08/2015
This is the book of the website of the same name (sometimes known as 'Terrible Real Estate Photographs' depending on local usage). It does what it says on the tin, as the advert says. All these photographs have been genuinely culled from property listings around the world, and either show just how bad some houses can get, or just how bad some photographers can get. (And sometimes both.)As a one-time estate agent's photographer myself, I can relate very closely to this book. The brief is always "photograph every room", and some agencies won't take"But it was terrible!" for an answer. Equally, one person's delightful ideas of decor and living space can be another person's vision of hell. And you would not believe how many people have toilets in their kitchens...The author's captions are as good as the photographs themselves.Do yourself a favour and get hold of a copy of this book. Doubly so if you're putting your house on the market.