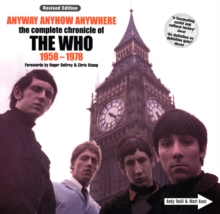 Anyway Anyhow Anywhere : The Definitive Diary of The Who
Paperback
Description
In the beginning, Roger Daltrey, John Entwistle, Keith Moon and Pete Townshend - four distinctive individuals whose common bond was a shared passion for music - formed a rock band.
Little did they suspect that over the course of two decades, The Who (as they came to be known) would establish themselves as one of the most influential rock groups of all time.
Anyway Anyhow Anywhere: The Complete Chronicles of The Who 1958-1978 recounts the daily activities of The Who during that amazing journey, from their first stirrings as The Detours to their groundbreaking, earth-shattering work in the 1960s and 1970s, and culminating with the untimely death of the band's explosive drummer, Keith Moon.
Compiled from a variety of primary sources (including band member reminisciences, diary entries, and the like) Anyway Anyhow Anywhere is the most complete and accurate account of the band's evolution ever written. Organised by year, each chapter of the book gives a concise overview of the band's development, and then presents in diary fashion exactly what they were doing, where they were doing it, and with whom. The book contains detailed information about concert tours, radio and television gigs, recording sessions, record releases (including U.K and U.S. variations), and solo activities, and provides insight into the group's professional and personal relationships.
Also featured are quotes from band members, as well as individuals and associates who knew and worked with The Who throughout those years.
Finally a unique collection of rare photographs and memorabilia (many previously unpublished) from every step in The Who's career (through 1978) puts the reader in the front row for one of the greatest rock acts ever to swagger onstage.
Featuring a foreword by Roger Daltrey and former manager Chris Stamp, with text written by veteran Who biographers Andy Neill and Matt Kent, and illustrated with more that 650 black and white and full colour illustrations, Anyway Anyhow Anywhere the Complete Chronicle of The Who 1958 -1978 is the most dynamic, accurate and informative account of The Who's wild unforgettable ride to rock stardom ever assembled.
Information
Format: Paperback
Pages: 322 pages
Publisher: Ebury Publishing
Publication Date: 06/10/2005
Category: Rock & Pop music
ISBN: 9780753510681
Free Home Delivery
on all orders
Pick up orders
from local bookshops
Also by Andy Neill