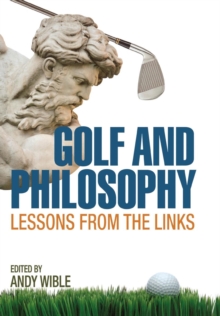 Golf and Philosophy : Lessons from the Links
Hardback
Description
"[Stone houses] soon dotted the countryside, and in such houses traditions lived on -- for a while.
Now many of them sit neglected, their histories forgotten, yet each can tell us much about that era, the people who lived in it, and their world.
This book tells those stories." -- from the book In the years before the Revolutionary War, intrepid frontiersmen with roots in northern Ireland claimed vast tracts of land in Kentucky.
These aristocratic families developed plantations and built stone houses that became the centerpieces of their properties.
In Early Stone Houses of Kentucky, author Carolyn Murray-Wooley examines these early frontier homes and explores the lives of the people who built and inhabited them.
Who were these settlers? What traditions did they draw on to provide construction techniques and plans?
How do the frontier dwellings of settlers from different origins compare with these stone houses?
Murray-Wooley found that Ulster descendants were three times more likely to build with stone than were other cultural groups and they almost always built hall-parlor with gable end chimneys.
Many wealthy families from the north of Ireland who had settled in the eastern colonies migrated to the Bluegrass to claim some of the richest and most valuable land in the commonwealth.
They quickly became leaders in the areas of politics, education, and religion and they brought many of the cultural traditions of northern Irish gentry to their homes in Kentucky.
These energetic settlers transformed a wilderness into an agricultural landscape in fewer than twenty-five years.
Drawing on extensive field work and genealogical research, Murray-Wooley provides an accurate history of this group of settlers and their architectural practices.
Early Stone Houses of Kentucky includes measured drawings and floor plans to depict these houses as they would have been at the time of construction, pairing them with photographs of the structures today.
Information
Format: Hardback
Pages: 264 pages, none
Publisher: The University Press of Kentucky
Publication Date: 11/08/2010
Category: Philosophy
ISBN: 9780813125947
Also in the The Philosophy of Popular Culture series | View all