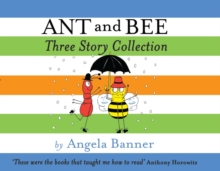 Ant and Bee Three Story Collection
Hardback
Description
'These were the books that taught me how to read' Anthony Horowitz. The much-loved classic series of Ant and Bee books is designed for shared reading fun!A tiny treasury featuring the inseparable insects, Ant and Bee.
Join them on three alphabetical adventures as they travel to the hottest place in the world, discover a sparkling jewel and take a flight on a magical treeThis collection introduces three-letter, four-letter and five-letter words, and includes Ant and Bee, More Ant and Bee and More and More Ant and Bee. First published in 1950, Ant and Bee were in print for over 40 years.
These new editions feature revised text and illustrations by original Ant and Bee creator Angela Banner.
The adorably small format is perfect for little hands.
Ant and Bee teach children to read via word recognition and encourage story sharing with siblings and parents.
Grown-ups read the black words, but the shorter, simpler red words are for young children to call out.
These books are for sharing, building confidence in early readers and most of all enjoying!
Perfect for young children aged 3 and up. Parents and grandparents who grew up with Ant and Bee will love sharing this nostalgic experience from the same era as Ladybird Read it Yourself. Have you collected all of Ant and Bee's learning adventures?Ant and BeeMore Ant and BeeMore and More Ant and BeeAnt and Bee Count 123Ant and Bee and the SecretAround the World with Ant and BeeHappy Birthday with Ant and BeeAnt and Bee and the RainbowAnt and Bee and the ABCAnt and Bee TimeAnt and Bee and the Kind DogAnt and Bee and the DoctorAnt and Bee Go ShoppingLeft and Right with Ant and BeeMake a Million with Ant and BeeAngela Banner was born in 1923.
She first wrote Ant and Bee as a way to teach her son how to read.
The first book in the series was published in 1950. Since then, Angela has written 22 Ant and Bee books.
Free Home Delivery
on all orders
Pick up orders
from local bookshops
Also in the Ant and Bee series | View all