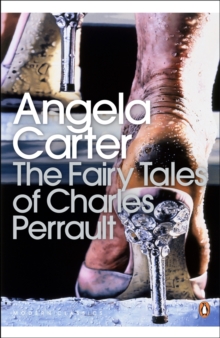 The Fairy Tales of Charles Perrault
Paperback
Description
In eighteenth century France, Charles Perrault rescued from the oral tradition fairy tales that are known and loved even today by virtually all children in the West.
Angela Carter came across Perrault's work and set out to adapt the stories for modern readers of English.
In breathing new life into these classic fables, she produced versions that live on as classics in their own right, marked as much by her signature wit, irony, and subversiveness as they are by the qualities that have made them universally appealing for centuries.
Information
Format: Paperback
Pages: 112 pages
Publisher: Penguin Books Ltd
Publication Date: 02/10/2008
Category: Myth & legend told as fiction
ISBN: 9780141189956
Free Home Delivery
on all orders
Pick up orders
from local bookshops
Reviews
Showing 1 - 1 of 1 reviews.
Review by edwinbcn
16/06/2015
Fairy tales originate in the oral tradition of short stories which were told and handed down from generation to generation. They have apparently existed in all cultures. While some fairy tales were included or incorporated into literary form in earlier centuries, fairy tales in Western culture were not established into a literary genre until the late Seventeenth century. By writing them down, the fairy tales became fixed.Many of the most well-known fairy tales, such as "Little Red Riding Hood", "Bluebeard", "Puss in Boots", "The Sleeping Beauty" and "Cinderella" were thus first recorded in written form by the French author Charles Perrault (1628 - 1703).As the fairy tales circulated in spoken form, they may have varied in content and form. Histoires ou contes du temps passé ou Les Contes de ma Mère l'Oye (Stories or Fairy Tales from Past Times with Morals or Mother Goose Tales (1697) are described as "works derived from pre-existing folk tales." Recent scholarship has shown that Perrault's fairy tales were not true recordings of folklore, but rather a type of aristocratic fairy tales mixing folklore elements with Perrault's imagination and including elements from French fashion and aristocratic life and style.More than one hundred years later, between 1812 and 1857 the Brothers Grimm, Jacob Grimm and Wilhelm Grimm, rewrote Perrault's fairy tales, suggesting that they had roots in the ancient oral folk tradition.The fairy tales written by Perrault have been translated into hundreds of editions into more than a hundred languages. They are now almost considered indistinguishable from their sources, or in fact, the source of the tales themselves.Angela Carter was not the first or only writer to translate Perrault's fairy tales, but her translation is notable, especially in view of the development of her own later work, particularly The Bloody Chamber.The fairy tales of Charles Perrault is a translation of Perrault's Mother Goose Tales of 1697, including all tales from that original edition. Angela Carter's translations are short but spiced with a modern touch that is unusual to readers familiar with the style of the Brothers Grimm. This makes each of the stories a light read. For each story a moral and an alternative moral are proposed at the end of the story.In the Modern Classics Penguin edition, Angela Carter's translation is preceded by an intertesting 32-pages long introduction and afterword by Jack Zipes, editor of the The Oxford Companion to Fairy Tales. This edition seems especially interesting to readers interested in the development of narrative technique in the work of Angela Carter.
Also in the Penguin Modern Classics series | View all