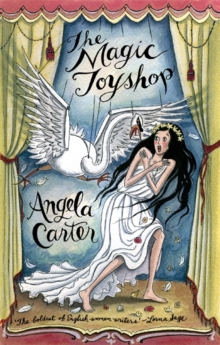 The Magic Toyshop
Paperback
Description
This crazy world whirled around her, men and women dwarfed by toys and puppets, where even the birds are mechanical and the few human figures went masked...
She was in the night once again, and the doll was herself.'Melanie walks in the midnight garden, wearing her mother's wedding dress; naked she climbs the apple tree in the black of the moon.
Omens of disaster, swiftly following, transport Melanie from rural comfort to London, to the Magic Toyshop.To the red-haired, dancing Finn, the gentle Francie, dumb Aunt Margaret and Uncle Phillip.
Francie plays curious night music, Finn kisses fifteen-year-old Melanie in the mysterious ruins of the pleasure gardens.
Brooding over all is Uncle Philip: Uncle Philip, with blank eyes the colour of wet newspaper, making puppets the size of men, and clockwork roses.
He loves his magic puppets, but hates the love of man for woman, boy for girl, brother for sister...
Information
Format: Paperback
Pages: 208 pages
Publisher: Little, Brown Book Group
Publication Date: 31/12/1981
ISBN: 9780860681908
Other Formats
Hardback from £10.65
EPUB from £4.99
Free Home Delivery
on all orders
Pick up orders
from local bookshops
Reviews
Showing 1 - 5 of 7 reviews.
Previous | Next
Review by krisiti
16/06/2015
The writing's very elaborate and discursive at the beginning, which has a distancing effect. Not transparent-glass distance, but something cloudy and distracting: looking at the words instead of through them at the story.It did clear. I don't know if the writing style changed or if I became accustomed to it, and the story was disturbing enough that I don't want to reread to find out. It's the total destruction of Miranda's comfortable life and self that bothers me -- nothing left by the end, and her perverse boyfriend isn't much consolation.
Review by dylanwolf
16/06/2015
Isn't life scary? Everything that you hold dear is predicated on such flimsy foundations. A superb fairy tale, coming of age novel from Angela Carter. What an excellent writer she is and, speaking as a bloke, I always feel that Carter has the greatest gift in explaining what it means to be a woman. Angela Carter explores the roles that relationships force upon us and illuminates exactly what feminist movement is talking about.Do read this as an introduction and then go onto the more full-blooded novels "Wise Children" and "Nights at the Circus"
Review by duck2ducks
16/06/2015
This book began as a slightly strange one, and ended even stranger. Dark, revealing, and with anticipated dread, Angela Carter's prose is marvelous in its descriptive alchemy. Acutely felt tension swells steadily as bursts of abstraction spring forth more and more, ending in one of the odder concluding chapters I've ever read in a novel.
Review by LisaMorr
16/06/2015
What a little treasure. The Magic Toyshop is about a girl (15) and her 2 siblings sent to live with her Aunt and Uncle and cousins.What a strange family she has joined - the Uncle, huge and imperious; the Aunt, struck dumb on her wedding day; and her two brothers, one a quiet fiddler, the other a gangly dancer. Everyone works for Mr. Flower (the uncle) to support his toyshop. Yet he is disdainful of anyone who buys a toy because of its novelty. And he loves his puppets.The story revolves around Melanie and how she manages to endure in this environment.One quibble is that I was occasionally thrown out of the story by some issues with writing. One example I can point to is this: "And their father, who was he? Everything, family jokes and their parents' love-letters before they were married (if their parents had exchanged love-letters) and cut locks of treasured hair and clippings of birth announcements from yellowed old local newspapers. She felt she would die if she could not know everything." The parenthetical statement is out of character and just didn't go along with the mood of the narrator. It stopped me in my (reading) tracks....But anyway, there wasn't that much of that. And I really did like it, it had a lot of unexpected moments in it.
Review by rainbowfaerie
16/06/2015
A darkly, disturbingly brilliant description of a young woman's journey into adolescence and of trying on different roles (child, mother, bride, wife) for size on and off the stage. Thrown into an unknown world and an unknown family, Melanie begins to understand others in relation to herself and tries to find her way. Angela Carter shows understanding of a 15-year-old's thinking while placing the protagonist in an environment which enables her to live out her fantasies and nightmares.
Also in the Virago Modern Classics series | View all