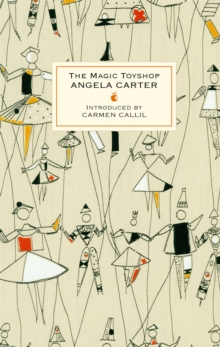 The Magic Toyshop
Hardback
Description
Cover design by Jacqueline Groag'This crazy world whirled about her, men and women dwarfed by toys and puppets, where even the birds were mechanical and the few human figures went masked . . . She was in the night again, and the doll was herself'One night Melanie walks through the garden in her mother's wedding dress.
The next morning her world is shattered. Forced to leave her rural home, she is sent to London to live with relatives she has never met: gentle Aunt Margaret, mute since her wedding day; and her brothers, Francie, whose graceful music belies his clumsy nature, and the volatile Finn.
Brooding over all is Uncle Philip, who loves only the puppets he creates in his workshop, which are life-sized - and uncannily life-like.
Information
Format: Hardback
Pages: 240 pages
Publisher: Little, Brown Book Group
Publication Date: 01/05/2008
ISBN: 9781844085231
Other Formats
Paperback from £6.29
EPUB from £4.99
Free Home Delivery
on all orders
Pick up orders
from local bookshops
Reviews
Showing 1 - 1 of 1 reviews.
Review by rainpebble
16/06/2015
My God! This ended too soon. My heart is beating so hard for Victoria, Jonathon, Aunt Margaret, Francie & even the dog.I should have begun reading Angela Carter with this book and not The Passion of New Eve and Shadow Dance. This book is absolutely brilliant!Melanie, Jonathaon & Victoria are the children of a journalist/writer who travels in his work and his wife, their mother, travels with him. So they are raised in a lovely home in the country with Mrs. Rundle, their housekeeper who loves them and takes such good care of them.When Melanie is 15, there is a plane crash and both parents are killed and although their father makes a very good living, he has put no money aside for emergency's sake. So the children must go and live with their mother's brother, Uncle Philip, near London, whom they do not know. He is married to Aunt Margaret who has not been able to speak since the night she married him and with them live her two brothers, Francie and Finn.This family lives so differently that although Victoria and Jonathon adjust well enough the older Melanie has a very tough time of it. The house is bare and dirty. The Aunt is given no money for housekeeping. She must charge everything at the shopkeepers and the Uncle pays them monthly. He is a toymaker and puppeteer and is very good at his craft. But he is a small minded man, mean and evil with his family. All fear him. The only time any of them are relaxed is when he is away from home.Melanie helps her Aunt Margaret run the toyshop and there they work from morn til night. Finn helps his uncle in the workshop to make the toys and puppets by painting them and every so often they put on a puppet show for the family. These are very stressful occasions and the family must wear their best clothing and clean up for the show when on a normal day they are unkempt, dirty and wear slovenly clothing. Uncle Philip wants them to think he is wonderfully talented with his puppeteering, which he is. So they applaud him madly. Finn helps with the puppet shows and is beaten and half killed for his efforts if he makes the smallest of mistakes.The other brother, Francie, earns money by going out to doings and playing the fiddle. This is a hauntingly beautifully written novel. I wish I had read it yonks ago. There is nothing happy about the book other than the very beginning when the children are happily ensconced in their parental home before the tragedy strikes. I was on tenterhooks throughout the last 2/3 of the book. I can't say that I enjoyed it but I did appreciate it, was riveted by it and am very glad I read it. It was a truly magical, though not in a good way, read. I rated it 4 1/2 stars and guardedly recommend it. I am shocked at my reaction to The Magic Toyshop by Angela Carter.
Also in the Virago Modern Classics series | View all