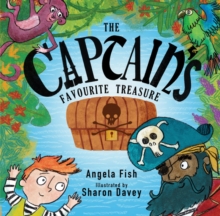 The Captain's Favourite Treasure
Paperback / softback
Description
Join Tom on his adventure across the ocean as he searches for thecaptain's favourite treasure.
Can he find it before Captain Crank leaves himbehind on Pirate Island?Meet Tom.
Tom is a cabin boy on the pirate ship The Puffin andloves it very much.
When Captain Cutlass Crank goes ashore on Pirate Island, hetells Tom to look after his favourite treasure, but when he returns, thetreasure is missing!
The captain is very angry and says that Tom must find histreasure - or stay behind on Pirate Island for good. Tom asks his parents, his parrot, Giggles, and the crew too,but none know what has happened to the treasure.
Determined to find it, Tomtakes a boat and rows to lots and lots of strange islands searching for thetreasure.
Can the fire tigers help him? What about the Jigsaw people or thefish under the waves?
Will Tom ever find the treasure?With lively language, quirky illustrations by Sharon Davey(Creative Fox) and a surprise ending, TheCaptain's Favourite Treasure is a picture book that young readers willenjoy time and time again.
Information
Format: Paperback / softback
Pages: 24 pages
Publisher: Troubador Publishing
Publication Date: 26/07/2018
Category: Adventure
ISBN: 9781789013092
Free Home Delivery
on all orders
Pick up orders
from local bookshops
Also by ANGELA FISH