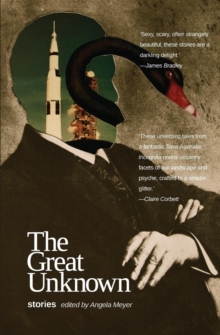 Great Unknown
Paperback / softback
Description
In this anthology, our editor, Angela Meyer, pays tribute to the undeniable cultural influence that American TV programs such as Twilight Zone and Outer Limits have had on our lives 'down under'. 'These TV dramas,' Meyer says, ' were often metaphors for equality, justice, the nuclear threat and more.
Though they were just as often pure, spooky fun.' Meyer has selected short stories and microfiction which range from the fantastical and macabre to the absurd.
In Paddy O'Reilly's Reality TV, a guest is confronted with her husband's infidelity in front of a live audience and Ali Alizedah's Truth and Reconciliation satirizes American celebrity television.
Chris Flynn's Sealer's Cove has a nudist caught in a time slip.
Carmel Bird evokes Edgar Allan Poe when over-sized hares incite the good folk of rural Victoria to commit criminal acts and in Sticks and Stones, Ryan O'Neill has an academic attacked by a demonic alphabet.
Contributors include established and emerging writers such as Marion Halligan, Krissy Kneen as well as new talents.
Angela Meyer is a Melbourne-based writer and reviewer.
Her fiction has been published in Seizure, Wet Ink, The Lifted Brow.
She has written on books for many publications including The Big Issue, The Australian, and Crikey and she has interviewed authors at festivals across Australia and overseas.
A chapbook of her flash fiction will be published by Inkerman & Blunt in 2014.
Literaryminded.com.au
Information
Format:Paperback / softback
Pages:178 pages
Publisher:Spineless Wonders
Publication Date:01/12/2013
Category:
ISBN:9780987447937