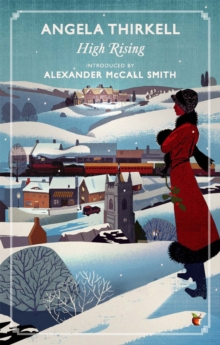 High Rising : A Virago Modern Classic
Paperback
Description
Successful lady novelist Laura Morland and her boisterous young son Tony set off to spend Christmas at her country home in the sleepy surrounds of High Rising.
But Laura's wealthy friend and neighbour George Knox has taken on a scheming secretary whose designs on marriage to her employer threaten the delicate social fabric of the village.
Can clever, practical Laura rescue George from Miss Grey's clutches and, what's more, help his daughter Miss Sibyl Knox to secure her longed-for engagement?Utterly charming and very funny, High Rising is irresistible comic entertainment.
Information
Format: Paperback
Pages: 288 pages
Publisher: Little, Brown Book Group
Publication Date: 22/11/2012
Category: Classic fiction (pre c 1945)
ISBN: 9781844088836
Other Formats
Paperback from £6.29
EPUB from £3.99
Free Home Delivery
on all orders
Pick up orders
from local bookshops
Reviews
Showing 1 - 4 of 4 reviews.
Review by laytonwoman3rd
27/01/2016
Fun, fun, fun. A comfort read---characters who are real and believable, some of whom you'd like very much to have to tea, and others you'd hope never to need to engage with at all. A bit of romantic intrigue, an annoyingly talkative little boy, a woman making her way on her own and not at all sorry about it. A story line that is undemanding, and yet rewards you for following along. A lovely visit to a time and place we don't inhabit (England between the wars), and yet find familiar. Satire with a heart.Review written in December 2012
Review by lycomayflower
16/06/2015
Delightful and amusing. When one has a day to devote to snugging up with a cup of tea and fuzzy pet of choice to read while weather weathers out the window, this is precisely the sort of book one ought have at the ready. Nothing too dire, but a healthy dose of real life and practicalities in a charming setting with the sorts of characters one has known or anyway would like to meet. Makes me glad I have a stack more Thirkells waiting on my shelves, but slightly cross that the next one in order is not among them. Recommended for when you want pleasant without the slightest hint of saccharine.
Review by lauralkeet
16/06/2015
I became acquainted with Angela Thirkell and her Barsetshire series a year ago, when I received one of her books in a Secret Santa exchange. Set in a 20th century version of Trollope's Barsetshire, these novels are generally a light comedy of manners with country houses, romance, and mishaps. The first two were published in 2012 as Virago Modern Classics, and I was fortunate to receive both in a 2013 Secret Santa. <i>High Rising</i> introduces Laura Morland, a prolific novelist, and mother of four sons, with only one, Tony, still at home. Tony is an insufferable little boy obsessed with trains and his model railway. Laura, a widow, relies on her writing for income, but is also keenly aware that her work is not "great literature." Laura is friends with George Knox, an older and more pompous author of historical novels, and with her publisher, Adrian Coates. Laura is portrayed as a bit of a scatterbrain, but is actually quite strong and effectively resists pressure to take another husband. <i>"Do you think I want a husband, and if I did do you think I'd want you? I'm old enough to be your mother, or at least I would be in India. And as for being a father to my boys, do you think three independent young men who are earning their own livings need a father? Bah! As for Tony he doesn't require one. We get on very well, thank you. Bear my burdens, indeed. You great mass of incompetence and conceit, you revolt me. You really do. Here, drink that coffee."</i>Isn't it marvelous how Laura makes her point but never loses her social graces, still offering coffee at the end of her tirade? The "action" in this novel concerns Adrian's evolving romance with George's daughter Sibyl, and the increasing role of George's secretary, Una Grey, in family affairs. The plot evolves during parties, over tea, and on excursions to London. You know this is one of those novels where all will end well, it's just a matter of how the ends are tied together. It's good fun and with 29 books in the series, I'm sure I'll be reading more.
Review by Jaylia3
16/06/2015
Oh, how odious! The pompously verbose but good-hearted author George Knox has hired a loathsome new secretary who seems determined to manipulate him into marriage. This causes no end of trouble, irritating his good friend and fellow author Laura Morland. The lovely but quite happily widowed Mrs. Morland tries to set things right, but she's often distracted by her energetic train-obsessed youngest son or her lovestruck publisher or the tribulations and/or celebrations of one of her fellow residents of High Rising. Mrs. Morland thinks of herself as an author of good "bad" books--lively, highly popular but lowbrow stories set in the fashion world. Along with Laura Morland, who returns in several of Thirkell's later books, other characters in High Risings include rambunctious children, loyal but opinionated servants, devoted secretaries who nevertheless have their own agendas, an unflappable schoolmaster's wife, an infatuated doctor, and several hopeful but undeclared lovers both young and old. High Rising is the first of Angela Thirkell's witty and entertaining Barsetshire novels, which borrow their fictional setting in the English countryside from Anthony Trollope's Chronicles of Barsetshire. Thrikell's books are loosely connected stories with overlapping characters, most of them written at about the time they take place--in this case High Risings was set and written between the two world wars. Thirkell may have seen herself as something of a Mrs. Morland. After leaving two husbands behind, Thirkell supported herself and her sons by writing a book a year, successful books that she felt compared unfavorably to her beloved Proust, Austen and Dickens and that she didn't expect (or want) her cultured, well-educated friends to read. I, however, find her books great fun. No one can write diverting "lowbrow" literature like a classics-steeped highbrow author (see also Dorothy Sayers.)