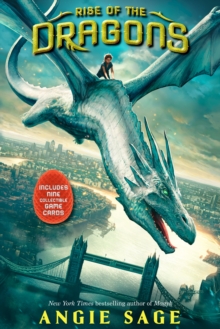 Rise of the Dragons
Hardback
Description
With 9 collectible game cards that put YOU inside the dragon battle! There was a time when our world was full of dragons, and they lived alongside humans in harmony.
But after a rogue group called the Raptors tried to gain power and rule over Earth, all dragons were banished to another realm. Years passed, and then decades, and then centuries. And most humans forgot about the dragons. It was almost as if they had never existed. But some still new the truth, and the legend stayed alive. Eleven-year-old Sirin grew up with the stories, but the magic of those tales seemed hard to believe.
That is, until Sirin saw a mysterious streak of silver in the night sky and decided to find its source. But when Sirin becomes the first child to "lock" with a dragon in centuries - forming a deep bond unlike anything she's ever known - she learns that not all dragons have returned with good intentions. And soon she finds herself at the centre of a terrifying battle... Written by bestselling author Angie Sage, Rise of the Dragons is perfect for fans of Cressida Cowell's How to Train Your Dragon series.
Information
Format:Hardback
Pages:272 pages
Publisher:Scholastic US
Publication Date:02/05/2019
Category:
ISBN:9780545864961