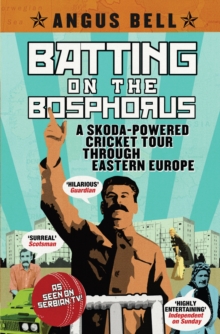 Batting on the Bosphorus
Paperback
Description
Following a chance encounter with a psychic, Angus Bell sets off on an 8,000-mile Skoda-powered road trip across Eastern Europe in search of a cricket match.
It's a gloriously batty adventure which brings Bell face-to-face with fingerless fielders in the Czech Republic, Serbian MI6 agents, and the realisation that England's most eccentric game is being played with passion in the strangest corners of the continent.
Information
Format: Paperback
Pages: 256 pages
Publisher: Canongate Books Ltd
Publication Date: 26/06/2008
Category: Cricket
ISBN: 9781847672902
Free Home Delivery
on all orders
Pick up orders
from local bookshops
Reviews
Showing 1 - 5 of 11 reviews.
Previous | Next
Review by irkthepurist
16/06/2015
Oh I enjoyed this. It's far from perfect - in fact at times it's downright maddening, but Bell is an always entertaining and endearing writer that you can't feel any more than just a hint of frustration whenever the book ends up sagging a bit. The book is sort of a cricketing attempt to jump on the Tony Hawks' "Playing the Moldovans at Tennis" bandwagon but nowhere near as succesful. Although I still have a soft spot for Hawks and Dave Gorman's entries into the world of lucrative foolish wagers, I am beginning to get tired of the Danny Wallaces of this world turning their every foolish whim into a paperback... see the recent "Mitchell and Webb" demolition of this for a better expression of how annoying this gets. But frankly I'd rather Bell have tried the wager angle because all this nonsense about soothsayers just seems... ridiculous frankly. And if you're not convinced by the motivation of why Bell is whizzing around Eastern Europe playing cricket then immediately you're on somewhat shakey ground. Even if Bell had just said "I want to play cricket in an area of the world I've visited before and don't think plays the game very much" I'd have accepted it more than the medium stuff.That said, Bell is a very endearing writer and there were huge chunks of the book where his enthusiasm for the game, enthusiasm for the places he's visiting and especially his enthusiasm for the people he meets just dazzles through the sometimes mixed prose. He's someone you just find tremendously likeable and so even though there are times that you wish that he'd explain a few more of the nuts and bolts of cricket to you (I like cricket, I have a few books on the subject but I know very little about the rules on a technical level) and other times where you wish he'd clarify his sometimes muddy explanations of situations, you still enjoy the book. I'd recommend this book with caution in the end. If you find yourself liking Bell as a writer and as a person then you'll enjoy the book for all it's many shortcomings. If you took against him then I'd probably say it's safer to stay away in the long run. I'd be interested in anything else he wrote at a later date mind (if he leaves sodding mediums out of it of course!)
Review by Teazle
16/06/2015
If you are interested in cricket then you may enjoy this book, but I'm afraid I'm probably not the right person to be reviewing this, as I know, and care, little about the game. There are a few fairly interesting anecdotes and some humourous incidents while this young man travels round Eastern Europe in search of cricket players. However at some points I felt bogged down by too much detail, and at other times I would have liked the writer to expand a bit more on something mentioned. I think some judicious editing adice from a non-cricketing person could have made this book into one with wider appeal amongst the general public, while still pleasing the cricket buff.
Review by dorisdayrules
16/06/2015
Oh dear. This began on an extremely promising premise - a cricket tour of eastern europe, prompted by a visit to a psychic and the first few chapters where moderately amusing. Then the tedium set in - not with the cricket and the eastern europeans but with Angus Bell. His whole patronising attitude increasingly grated and all the humour disappeared comensurately. All in all a real disappointment. One star for the initial chapters.
Review by steelyman
16/06/2015
The subject had a lot of potential, but the book comes off as only sporadically engaging. Cricket literature is by now a fairly vast field and there are some underrated gems that are appearing these days - try 'Pundits from Pakistan' from instance. This has to be the first book I've read about the obssessives who live in countries that are not even remotely in tune with the mainstream of the cricketing world, but who keep the flame of their passion burning brightly. However, you consistently feel that Bell flits from subject to subject, as if afraid to leave out anything, but never quite gets the grip and turn off the surface that would make this a great book. Worth a read for the interesting subject and if you're quite cricket mad, but many will find their attention wandering after a few chapters.
Review by riverwillow
16/06/2015
Angus Bell and his beloved Skoda travel around Eastern Europe seeking out the cricket mad accompanied by a series of hitchhikers and, possibly, the ghost of his Uncle Ivor. If you want a serious book about cricket this is not the book for you. But if you want a mad travelogue, with encounters with strange cricketing folk read this. My father was obsessed with cricket and believed that it had a role to play in world peace and he would have approved of Bell who comments 'I was pleased to discover that the British Ambassador was a gifted cricketer. I believed this to be the most important role in our Foreign Office'.